Skyworth defendants released on bail
(China Daily)
Updated: 2004-12-02 21:34
Skyworth Digital Holdings' Chairman Stephen Wong Wang-sang and his brother Wong Pui-sing, the company's executive director, were released on bail yesterday while their case of alleged misappropriation of company funds was adjourned.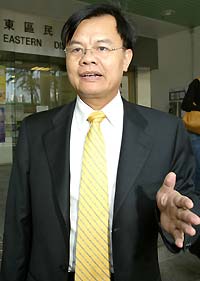 Skyworth Digital Holdings' Chairman Stephen Wong Wang-sang leaves a local court in Hong Kong. [newsphoto]

The duo appeared in the Eastern Magistracy to face a joint charge of conspiring with a third person to steal nine cheques, totalling more than HK$48 million of company funds, from November 2000 to April 2003.

No pleas were taken. At the request of the prosecution, Magistrate Ian Candy adjourned the case until March 2 to allow for further investigation and collection of evidence, and for the Independent Commission Against Corruption (ICAC) to consider whether or not to press more charges.

The two defendants were each granted cash bail of HK$1 million, but they were not allowed to leave the territory and had to surrender their travel documents.

In a statement released yesterday, SDH said that its directors were co-operating actively in the on-going investigation.

Trading of the company's stocks was suspended for the third consecutive day yesterday.

Moses Cheng Mo-chi, deputy chairman of Hong Kong Exchanges and Clearing's Listing Committee, said that Hong Kong's supervisory regulations already provide enough deterrence against company fraud.

He hoped that through training for company directors, corporate management of listed companies in Hong Kong could be improved.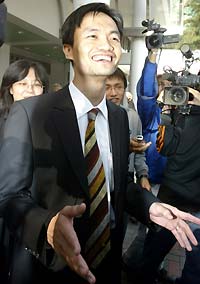 Skyworth Digital Holdings' executive director Wong Pui-sing leaves the court. [newsphoto]

However, no regulations can deal with insincerity on the part of individuals, he pointed out.

Also commenting on the episode, Financial Secretary Henry Tang said that the case has demonstrated that Hong Kong is a society that respects the rule of law, and its law-enforcement units are always ready to crack down upon any suspected illegal activities.

All investors, no matter where they come from, must abide by the law. This is the key to Hong Kong's success, Tang stressed.

If necessary, more resources could be allocated to the ICAC and the Commercial Crime Bureau to help them enforce the law, he added.

The two brothers, together with eight other current and former SDH employees, were arrested by the ICAC on Tuesday for suspected involvement in the bribing of a former accountant into falsifying documents to facilitate the company's listing in 2000.

The pair were also suspected of having stolen company funds under the guise of consultant fees or service commissions.

Five more persons were arrested on Wednesday in relation to the case.

Officials at Hong Kong's listing authority -- Hong Kong Exchanges and Clearing -- refused to comment directly on the incident on Wednesday.

Paul Chow, HKEx's chief executive, reassured the public that supervision of the local stock market will gradually improve.

Speaking to the press in Beijing, Chow highlighted HKEx's on-going efforts in amending listing regulations and the preparation for the establishment of an independent investigative body and a panel for reviewing financial information.

Supervision of the stock market will start to improve when the new supervisory framework is in place next year, he said.

He also reminded investors that they should always try to understand clearly the companies they are investing in and the level of risk they are willing to bear.

He pledged that HKEx will do its best to provide investors with the information they need since, in a free market, it is up to investors to make the decisions.




Today's Top News
Top China News

Government rules out forming new energy ministry




Modified rice at least a year away




First greenhouse emissions deal inked




EU urged to lift embargo




Central bank allows more RMB out of border




China smoking dramatically dropped: Survey