New Ukraine election looks likely way out of crisis
(Agencies)
Updated: 2004-12-02 20:14
KIEV, Ukraine - A new Ukrainian poll of some sort looked increasingly likely as parliament and the Supreme Court pressed ahead on Thursday with efforts to resolve a national crisis over a disputed presidential election.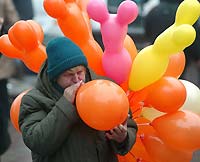 A street vendor inflates a balloon, bearing the campaign colour of Ukraine's opposition leader Viktor Yushchenko, in central Kiev, December 2, 2004. [Reuters]

Supporters thronged in slush-filled streets, heeding opposition leader Viktor Yushchenko's call not to let momentum slip in overturning an election he said was stolen by Moscow-backed rival Viktor Yanukovich by mass fraud.

Jan Kubis, OSCE secretary general and part of a foreign mediation team in Kiev, expressed optimism that progress was being made toward resolving the crisis.

"I am very glad that there is a political will on both sides to find a way out of this political crisis," he said in a BBC interview.

He noted: "We would like to see the two candidates, Mister Yushchenko and Yanukovich, meeting once again, then to start a political reform and eventually to constitute a new government but all this is part of one package."

Hundreds of demonstrators blocked government buildings despite what outgoing President Leonid Kuchma said was an agreement on Wednesday to free them.

"We are letting in civil servants, but no politicians," said a guard at a blockade near the main government building.

Talks on Wednesday between the two protagonists failed to end a standoff that threatens to tear apart the former Soviet republic situated between old master Russia and the EU.

But both sides, whose talks were brokered by international mediators, agreed to proceed with constitutional changes long sought by Kuchma to reduce the powers of the president and boost those of parliament.

No more talks were scheduled pending a ruling by the Supreme Court on Yushchenko's complaint of electoral fraud in the Nov. 21 run-off for the presidency.

The court's ruling will be pivotal to resolving the crisis, which has dented the economy. If the court, meeting for a fourth day, rules in favor of the opposition, election officials will have to revoke the victory they handed to Yanukovich.


OPPOSITION VICTORY

Ten days into the crisis, the opposition scored a victory in its drive to overturn the election result when parliament sacked Yanukovich as prime minister. But Yanukovich called the decision illegal and refused to accept it.


Yushchenko, who regards links to the West as key to Ukraine's future while Yanukovich views strong ties to Moscow as essential for the country's development, has brought vast crowds of supporters onto the streets to back his case.


The European Union, the United States and other Western powers have called for a new election to end the standoff. NATO urged politicians not to reduce the dispute to an East-West row.

Yushchenko said after the talks ended on Wednesday that he wanted a repeat of last month's run-off between Yanukovich and Yushchenko -- and not a completely new poll as favored by Kuchma.

"If the idea of a completely new election is raised again, there is absolutely no point in taking part in these talks," he told supporters.

A completely new vote would need about three months to organize and keep Kuchma in office in the meantime.

Parliament meets on Thursday to begin drafting changes to legislation necessary to implement reforms.

Yushchenko said he believed agreement would take 24 hours, but EU foreign policy chief Javier Solana, one of the mediators, said a month was needed for amendments.





Today's Top News
Top World News

Banks show improvement in capital strength




Prudent course charted for 2005 deckhead




All 166 trapped miners confirmed dead




Male homosexuals estimated up to 12.5m




Skyworth scandal ignites stocks sell-off




Hot car sales in China cool down