Hot car sales in China cool down
(Shenzhen Daily/Xinhua)
Updated: 2004-12-02 11:20
As China¡¯s high-flying automobile sector plunges back to earth, car companies that appear to be falling fastest are those that reached out to a new middle class ¡ª only to discover it¡¯s not quite there.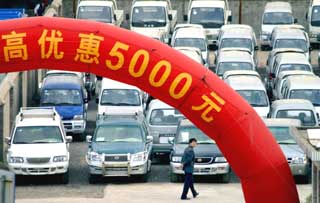 A car dealer in Nanjing, east China's Jiangsu Province, promotes car sales by offering discount up to 5,000 yuan off in this October 22, 2004 file photo. In the past few months, China¡¯s sedan sales have stalled, auto production has shrunk and fat profit margins have evaporated. [newsphoto]

In the past few months, China¡¯s sedan sales have stalled, auto production has shrunk and fat profit margins have evaporated.

While many analysts did not expect China¡¯s auto market to grow so fast the past two years, few thought it would slow so abruptly, either.

Some of China¡¯s best-known car companies have been caught off guard amid major expansions to reach buyers who are more price sensitive. Many assemblers are now reporting poor earnings and their share prices have plummeted.

The CITIC Auto Industry Index, which tracks auto companies listed in both Shanghai and Shenzhen, has plunged 44.35 percent since the start of this year, compared with a 7.8 percent decline for the Shanghai Stock Exchange¡¯s composite index.

¡°People are holding off on buying cars. Investors are holding off on buying auto shares,¡± said Hu Song, an auto analyst with Haitong Securities.

He blames stiffer competition and rising raw-material costs for thinner corporate profits. ¡°The prospects for both markets are so uncertain now,¡± he said.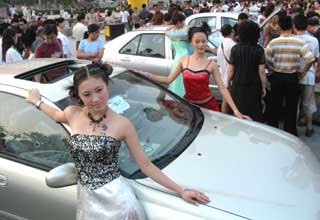 Car dealers resort to the use of young models to promote their sales in Luoyang, Henan Province in this September 12, 2004 file phto. In the past few months, China¡¯s sedan sales have stalled, auto production has shrunk and fat profit margins have evaporated. [newsphoto]

The sudden cooling of a hot industry has some exposed age-old business risks in China. A period of explosive growth may prove alluring, but not necessarily serve as an accurate gauge of the market¡¯s true size, according to analysts.

Now as growth tapers off in a range of industries, evidence of miscalculations is surfacing: empty apartment blocks, a glut in construction steel and rising stocks of unsold cars.

The ¡°usual mistake is to extrapolate the initial trend of high prices and growth into 1.3 billion people,¡± said Andy Xie, Morgan Stanley¡¯s Hong Kong-based chief economist for Asia.

Last year¡¯s surprisingly strong sales for luxury cars prompted many companies to bet China¡¯s middle class would be the next market to tap. But only scattered pockets of middle-class car buyers have emerged, largely in a few big cities.

Industry analysts say even middle-class Chinese ¡ª estimated to total about 60 million people ¡ª have been put off by banks¡¯ recent, tougher qualifications for giving car loans and rising gas prices.

Making matters worse, price wars among auto companies have resulted in de facto decreases in the value of newly purchased vehicles.

Many middle-class families are shouldering other expenses, including rising costs for health care, school tuition and monthly mortgage payments.

¡°There was great excitement for the middle class,¡± said Michael Dunne, president of Automotive Resources Asia, a consulting group that focuses on China auto trends. ¡°But these people aren¡¯t buying the US$30,000 cars.¡±

The upshot is many companies who bet on the emergence of a big middle class are now taking a hit. Market leader Volkswagen AG has said it will sell fewer cars in China this year than it did last year. Chinese carmakers Chongqing Chang¡¯an Automobile Co. and Geely Automobile Holdings, both of which staked growth on winning customers outside wealthy coastal cities, are now blaming disappointing sales for their lackluster earnings.

Brilliance China Automotive Holdings Ltd., which is assembling the BMW 325i and 530i cars, has flopped so far in its efforts to promote its own sleek, affordable sedan called the Zhonghua. In the first 10 months this year, Zhonghua¡¯s sales were 51 percent lower than the year-earlier period.

Shares have taken a beating as a result. Shenzhen-listed Changan Auto has fallen 49 percent since Jan. 1 while shares of Geely Auto and Brilliance, traded in Hong Kong, have shed 46 percent and 59 percent respectively.

China still remains the fastest-growing major auto market in the world. Passenger-car sales increased 18 percent in the first 10 months. But sales fell 3.6 percent in September and 1.3 percent in October from the year-earlier months, and many Chinese car salesmen say they have noticed a sharp downshift in buyer interest.

¡°There aren¡¯t so many people as before, and those who come in are hesitant,¡± said Wu Xianjia, a sales consultant with Shanghai Celebrities Automobile Co., which shows cars made by General Motors Corp.

Some big names, such as Japan¡¯s Honda Motor Co. as well as General Motors, have continued selling at the high end, while enticing a shrinking number of more budget-minded customers.

At the lower end, Hyundai Motor Co. of South Korea is squeezing many Chinese competitors. Having positioned itself in China as a premium brand with its Sonata, Hyundai last December introduced an economical compact called the Elantra. Hyundai¡¯s sales in China jumped 162 percent in the year¡¯s first 10 months, thanks largely to the Elantra.

¡°Certainly we are reaching down market,¡± said Hyundai spokesman Oles Roman Gadacz. ¡°At the same time, Chinese customers are reaching up in terms of quality.¡±

Still, more and more Chinese who can afford a car aren¡¯t convinced that they need one.

One 43-year-old textile entrepreneur in Shanxi Province, evokes a pessimistic view of the market, at least in the near term. The entrepreneur, who asked to be identified only by his surname Guan, said he held off buying a new Volkswagen Jetta in May.

Since then, the sticker price has come down 20 percent, but with all his other expenditures, Guan said he did not plan to reconsider that purchase anytime soon.

¡°The value of a car simply goes down the moment you buy it,¡± he said.





Today's Top News
Top China News

Prudent course charted for 2005 deckhead




All 166 trapped miners confirmed dead




Male homosexuals estimated up to 12.5m




Skyworth scandal ignites stocks sell-off




Hot car sales in China cool down




Inclusive UN reform urged