Skyworth scandal ignites stocks sell-off
By Jian Er (China Daily)
Updated: 2004-12-02 09:42
Investors gave most mainland private enterprise stocks a wide berth in Hong Kong Wednesday after the city's anti-corruption watchdog arrested top management of Skyworth Digital Holdings, one of the country's largest TV makers, on allegations of fraud and misappropriation of company funds on Tuesday.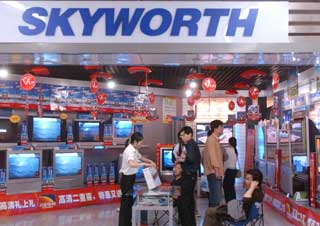 Customers visit a Skyworth TV section in an home appliance store in Zhengzhou, Henan Province in this June 22, 2004 file photo. [newsphoto]

But stock analysts said the sell-off would be temporary and the strong demand for initial public offerings (IPOs) would not be dampened as large pools of liquidity betting on the revaluation of renminbi are still afloat in the territory.

The Hang Seng China Enterprise index fell 24.94 points to 4,942.5 Wednesday, underperforming the benchmark Hang Seng Index which closed at a fresh three-and-a-half year high of 14,162.8.

Most mainland private enterprise stocks posted 3-5 per cent drops while Skyworth's rival TCL International, China's biggest TV producer, rose 3.448 per cent to HK$2.25 (28 US cents) Wednesday.

Global Bio-Chem Technology Group fell 4.237 per cent to HK$5.65 (72 US cents), Gome Electrical Appliance dropped 4.412 per cent to HK$6.5 (83 US cents), Chaoda Modern Agriculture finished 4.425 per cent lower at HK$2.7 (34 US cents), Fujian Zijin Mining Industry dropped 3.4 per cent to HK$3.55 (45 US cents) and Kingdee International Software sank 3.371 per cent to HK$2.15 (27 US cents).

"The scandal surrounding Skywor-th inevitably had a negative impact on other mainland private enterprise stocks as investors have always been worried about the corporate governance of these companies," said Louis Wong, director of Phillip Securities (HK) Ltd.

Stephen Wong, the chairman of Skyworth, three board members, a financial controller as well as five others were arrested by the Independent Commission Against Corruption in Hong Kong (HK ICAC) on Tuesday for alleged corruption relating to fraud and pilfering of corporate funds.

"The downward-pressure on the prices of these stocks will continue for some time but will merely be temporary as investors will focus on the fundamentals of a company in the long run," said Ben Kwong, director of KGI Asia.

He said the Skyworth corporate scandal would have a greater im-pact on those companies with low trans-parency but it was still an individual case which could not apply to all other mainland private enterprises.

In addition, both Wong and Kwong agreed the arrests of top management at Skyworth would by no means dampen the strong demand for new listings in the market.

A string of IPOs is scheduled to be listed in here over the next two weeks, raising up to US$4.88 billion.




Today's Top News
Top China News

Prudent course charted for 2005 deckhead




Chinese leaders value role of economic audit




All 166 trapped miners confirmed dead




Male homosexuals estimated up to 12.5m




Skyworth scandal ignites stocks sell-off




Inclusive UN reform urged