Bahraini princess and US marine end 5-year bond
(Agencies)
Updated: 2004-12-02 09:19
The star-crossed marriage between a Bahraini princess and a former US marine that was feted on US television has come to an end in the desert gambling town of Las Vegas.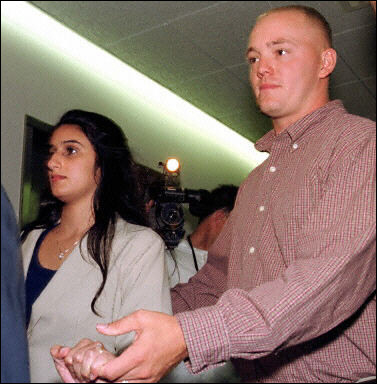 The marriage between Bahraini princess, Meriam Al-Khalifa, and former US Marine Jason Johnson, pictured at the bride's immigration hearing in 2000, once feted on US television has come to an end in Las Vegas. [AFP]

The fairy-tale story of Meriam Al-Khalifa, a member of the Gulf state of Bahrain's royal family, and US Marine Jason Johnson, who risked his career over their illicit love affair, became the subject of a television movie.

But five years on, the union is headed to the courts after the Bahraini bride filed for divorce in the town known for its quickie marriages and even quicker dissolutions, the Las Vegas Review-Journal reported.

"It was what she wanted," Johnson told the paper of the couple's recent filing for divorce.

The pair met in 1999 when career military man Johnson was stationed in Bahrain. But his life changed when he met the beautiful teenage princess and the pair fell in love.

They could not have been more different. Their relationship could not have been more difficult. She was Muslim, he was Mormon. She was rich and privileged, he was a commoner.

Their union was forbidden by the royal family, so Johnson risked everything by working out a plan to spirit her out of the country.

Disguising Al-Khalifa in a flannel shirt and a baseball cap and forging her military identification papers, he spirited her out of her home country and brought her to America.

Johnson was demoted a rank and was eventually discharged from the marines for his antics and is barred from re-enlisting, he told the paper.

After a bitter immigration battle with US authorities, the couple married at the Candlelight Wedding Chapel on the famed and glitzy Las Vegas Strip when the bride was 19 and the groom 23.

But the temptations of 'Sin City,' constant tensions with Al-Khalifa's powerful family and rumours of an assassination plot proved to much for their star-crossed union, Johnson said.

"The royal family made me look really bad," he told the paper.

He claimed that Federal Bureau of Investigation agents told him they had intercepted a Syrian national who said he had been paid 500,000 dollars to assassinate Al-Khalifa.

Johnson worked as a valet parker, parking the cars of hotel and casino guests, while she was increasingly tempted by the nightlife of the gambling mecca, frequenting clubs late at night and ignoring her husband, he said.

Al-Khalifa left Johnson about a year ago. "She's gone off the deep end," he said.

Al-Khalifa could not be reached for comment.




| | |
| --- | --- |
| | |
| Kidman lands in 'Guinness Book of Records' | |

| | |
| --- | --- |
| | |
| Guo Jingjing returned to training session | |

| | |
| --- | --- |
| | |
| U2's 'Bomb' explodes at No.1 on US charts | |
Today's Top News
Top Life News

Prudent course charted for 2005 deckhead




Chinese leaders value role of economic audit




All 166 trapped miners confirmed dead




Male homosexuals estimated up to 12.5m




Skyworth scandal ignites stocks sell-off




Inclusive UN reform urged