Panchen Lama surfs Net, learns English
(eastday.com)
Updated: 2004-12-02 08:41
A laptop and butter tea are indispensable daily items to 15-year-old Gyaincain Norbu, the officially recognized 11th Panchen Lama, the highest-ranking figure of Tibetan Buddhism currently in China.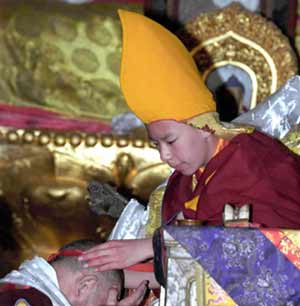 Erdeni Losang Qamba Lhunzhub Qoigyijabu, the 11th Panchen Lama, blesses a monk as he presided over a Buddhist activity in Beijing's Yonghe Lamasery yesterday. The lamasery is the biggest and best-preserved temple of Tibetan Buddhism outside the Tibetan-inhabited areas. [Xinhua]

Receiving a Buddhist education in the Chinese capital Beijing, while learning computer skills and English, the young Tibetan Buddhist leader keeps a typical Tibetan style in his daily life.

The central government selected him as the reincarnation of his predecessor in 1995.

The traditional Tibetan drink and food of butter tea and zanba, or roasted highland barley called qingke by locals, are his favorite breakfast food.

"Every morning His Holiness has zanba and butter tea for breakfast," said Lobsang Dainta, who has been the Panchen Lama's personal attendant for more than six years.

For lunch and supper the high ranking lama also prefers traditional Tibetan food such as beef dumplings, either steamed or boiled.

"He never treats himself to fish or seafood, but sometimes he has a tin of walnut juice," said Lobsang Dainta.

With an innate talent for Buddhist sutra studying, the teenager also finds the modern facility of a notebook computer a great attraction.

The young high lama is now living in Zhaxi Lhunbo Lamasery, the residence of previous Panchen Lamas in Xigaze, the second-largest city in Tibet.

He went to Tibet in early August.

The young lama spends most of his time between lunch and 4:00pm on his laptop and reading, said Lobsang Dainta.

His laptop is supported by software in the Tibetan language. Lobsang said his fast typing always amazes visitors.

The young Panchen Lama is also finding English lesson interesting. "He giggles when erring in pronunciation during his lessons," said Lobsang.

His English tutor, Xu Lianbi, a veteran ethnic Han teacher in his 60s, said the Panchen Lama can communicate in simple English and understand some short readings.

The young lama has two 90-minute English classes each week and spends two evenings studying English and Chinese.

Studying Buddhist sutras, however, is the main occupation of the Panchen Lama's daily life, said his acolyte.

"Only when he is occupied by religious rituals can the study be canceled."

"His Holiness shows great wisdom in Buddhism study, and he is very conscientious and diligent," said Salong Punlag, a managing lama in Zhaxilhunbo Lamasery.

He practices also Tibetan handwriting for an hour every evening.




| | |
| --- | --- |
| | |
| Kidman lands in 'Guinness Book of Records' | |

| | |
| --- | --- |
| | |
| Guo Jingjing returned to training session | |

| | |
| --- | --- |
| | |
| U2's 'Bomb' explodes at No.1 on US charts | |
Today's Top News
Top Life News

Prudent course charted for 2005 deckhead




Chinese leaders value role of economic audit




All 166 trapped miners confirmed dead




Male homosexuals estimated up to 12.5m




Skyworth scandal ignites stocks sell-off




Inclusive UN reform urged