All 166 trapped miners confirmed dead
By Ma Lie (China Daily)
Updated: 2004-12-01 23:32
All 166 miners trapped underground in a coal mine gas blast, the worst mining case ever reported in China, were confirmed dead yesterday.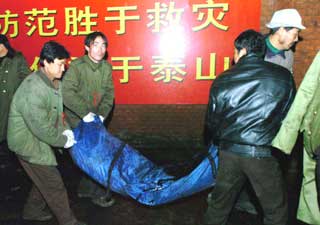 A body of one of the miners is carried out of the mine pit of the Chenjiashan coal mine in Shaanxi Province in the early hours of Wednesday. It has been confirmed all of the over 100 trapped underground in the explosion were dead, bringing the death toll in the accident to 166. [Xinhua]

Recovery work and efforts to console the relatives of those killed in Sunday's disaster in Northwest China's Shaanxi Province started yesterday.

But as the mopping up work began, another gas explosion in Southwest China's Guizhou Province killed 13 and left three others missing.

The Shaanxi provincial government officially announced yesterday the 166 miners trapped underground by the blast were dead, and recovery work is in full swing.

Early yesterday morning, the bodies of 21 of the 65 miners killed in the disaster at the Chenjiashan Coal Mine in Tongchuan of this northwestern province were found, while 101 miners remained missing in the gas-filled tunnel, local officials said.

Huo Shichang, director of Shaanxi Provincial Coal Industry Bureau, said the bodies were the first to be recovered from the mine.

"More than 200 rescuers have been sent down to look for the missing miners. There are still 83 rescuers underground, searching for the missing," the director said.

According to Huo, experts from the National Colliery Security Supervisory Bureau, the National Rescue Centre and the recovery workers all worked hard in an extraordinarily complicated and dangerous situation.

Experts who travelled to the area to take part in the rescue work and investigate the cause of the accident concluded that the miners trapped underground at the time of the accident had almost no hope of being alive.

Zhao Qingyun, an expert on gas and ventilation and deputy director of the Ventilation Office of Shanxi Yangquan Coal Industry Group, said the temperature may be as high as 1,000 to 2,000 C at the blast site.




Today's Top News
Top China News

Banks show improvement in capital strength




Prudent course charted for 2005 deckhead




All 166 trapped miners confirmed dead




Male homosexuals estimated up to 12.5m




Skyworth scandal ignites stocks sell-off




Hot car sales in China cool down