Ukraine parliament brings down government
(Agencies)
Updated: 2004-12-01 20:08
KIEV, Ukraine - Ukraine's parliament brought down the government of Prime Minister Viktor Yanukovich on Wednesday, approving a no-confidence motion as international mediators gathered in the capital to try to bring the spiraling political crisis to a peaceful resolution.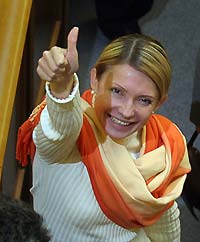 Ukrainian deputy Julia Tymoshenko, an ally of opposition presidential candidate Viktor Yushchenko wearing an orange campaign scarf, gestures after parliament's voting in favour of sacking the government during a parliamentary session in Kiev, December 1, 2004. [Reuters]

The dramatic vote came only days after the Election Commission certified Yanukovich as winner of Ukraine's disputed presidential run-off, though opposition leader Victor Yushchenko has said the vote was fraudulent, an allegation backed by Western governments and tens of thousands of opposition supporters.

Outgoing President Leonid Kuchma must now appoint a caretaker government, if he is to follow constitutional procedure. Kuchma, minutes before the vote, announced he supported holding an entirely new presidential election, not just a revote of the disputed second round.

Ukraine had a first round of voting in which no candidate received more than half the votes, setting up a runoff between Yanukovich and Yushchenko. The Nov. 21 vote provoked a national standoff when the opposition cited voter fraud, a charge backed by many international monitors. Yushchenko supporters called for a revote.

"Where in the world do they have a third round of elections? A revote ! it's a farce," Kuchma said at a government meeting. "I never supported it because it is unconstitutional."

Meanwhile, the regional legislature in Yanukovych's home region of Donetsk decided to go ahead with a referendum on Jan. 9 seeking autonomy from the country's central government, a move which would transform Ukraine into a federation.


Kuchma's proposal of a new vote seemed to be an attempt to buy the government time in the face of mass protests that have paralyzed the capital for 10 days and blocked government business. It also opened up the possibility of bringing new candidates into the race ! which the government has appeared to favor and the opposition fiercely opposes.


Under the Ukrainian constitution, the president must accept parliament's no-confidence vote, said Kiev-based analyst Markian Bilynskyj. He said that Kuchma has no choice but to dismiss his government and appoint a caretaker government, likely to be headed by parliament speaker Volodymyr Lytvyn.


Bilynskyj said that pro-Communist parliamentary groups used a similar move in 2001 to oust Yushchenko from the prime minister's post.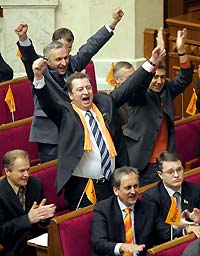 Ukrainian deputies supporting opposition presidential candidate Viktor Yushchenko, decorated with orange campaign banners, react after voting in favour of sacking of the government during a parliamentary session Kiev, December 1, 2004. [Reuters]

However, Serhiy Seheda, a political analyst with the International Center for Policy Studies in Kiev, said Kuchma might ignore parliament.


"Our president does not always act according to the constitution," he said.


The no-confidence vote was passed by 229 members of the 450-member chamber. It came minutes after being turned down by a vote of 222-1.


International mediators, meanwhile, renewed efforts to defuse the crisis and the Supreme Court considered whether the election results were valid.


The last internationally brokered negotiations broke down over opposition accusations that the government was trying to consolidate its flagging authority by dragging out the talks. Yushchenko is pushing to be declared the outright winner ! or for a fast revote to capitalize on the momentum generated by the protests.


European Union (news - web sites) foreign policy chief Javier Solana arrived in Kiev on Tuesday. Polish President Aleksander Kwasniewski and the secretary general of the Organization for Security and Cooperation (news - web sites) in Europe, Jan Kubis, were expected to arrive Wednesday.


The speaker of the Russian parliament, Boris Gryzlov, and Lithuanian President Valdas Adamkus were also expected to participate in the talks.


Mediators helped arrange talks between Yanukovych and Yushchenko last Friday, but the opposition pulled out of those talks on Tuesday.

Yanukovych suggested Tuesday he could agree to a proposal for a new election ! but that both he and Yushchenko should bow out if one is held.

"If this election brings a split in the country ... I'm ready to drop my bid along with him," Yanukovych said.

Yushchenko ignored the proposal. He also rebuffed the offer of the prime minister's post under a Yanukovych presidency, saying it fell far short of a solution.

"The election was rigged," he said. "People are asking whether this country has a political elite capable of upholding a fair vote."

Yushchenko has led the opposition for years and was long seen as its candidate in a country where millions are yearning for change after Kuchma's 10-year rule. Kuchma anointed Yanukovych as his favored successor last spring, hoping his prominence as prime minister would attract votes.

Both campaigns are pinning their hopes on the Supreme Court, which convened for a third day to consider Yushchenko's appeal for the official results to be annulled. The opposition has presented its allegations of fraud and demanded Yushchenko be named the winner based on his narrow edge in the election's first round on Oct. 31. It remains unclear when a ruling will come.

The political crisis stoked fears of Ukraine's breakup. Yushchenko draws his support from the Ukrainian-speaking west and the capital, while Yanukovych's base is the Russian-speaking, industrialized east.

The West has refused to recognize the results, while Russia ! which still has considerable influence over Ukraine ! congratulated Yanukovych and complained of Western meddling.





Today's Top News
Top World News

Condoms, parades mark World AIDS Day




Shaanxi mine blast toll confirmed at 166




Hu visits AIDS patients in Beijing




Wen told Koizumi: Shrine visits hurts ties




Noisy neighbourhood? Take 'em to court




Tourist sites to raise admission fees