Condoms, parades mark World AIDS Day
(Agencies)
Updated: 2004-12-01 16:58
The world's two most populous nations -- China and India -- promised Wednesday to eradicate ignorance about AIDS, a disease that was at first dismissed by many as a Western evil confined to drug users, homosexuals and prostitutes.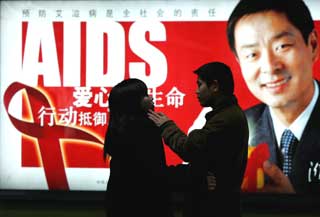 A Chinese couple wait for a ride in front of an AIDS awareness poster at a subway station in Beijing marking World AIDS Day December 1, 2004. China put on a public display of commitment to fighting a disease. [Reuters]

China put on a public display of commitment on World AIDS Day to fighting a disease which the United Nations fears could infect 10 million Chinese by 2010, if no urgent measures are taken.

In India, where over 5 million people have already been infected with HIV, the government said it would make greater efforts to promote awareness, especially in rural areas and among the young.

"The world can no longer afford to ignore the enormity of the HIV epidemic," Antonio Costa, executive director of the UN Office on Drugs and Crime, told an assembly in Beijing.

"The time has come to strike back at a killer that is transmitted by drug use and sex, as well as by ignorance and denial," he said before an audience waving large styrofoam red ribbons, that have come to symbolise the fight against AIDS.

China's battle against the spread of HIV got a boost Tuesday when President Hu Jintao visited a hospital and shook hands with an AIDS patient and Premier Wen Jiabao called for "unremitting efforts" against the epidemic.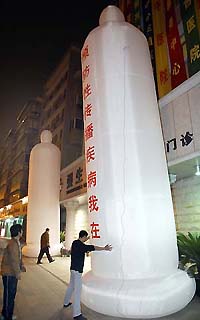 A huge condom is erected in front of a Hangzhou hospital in East China's Zhejiang Provice, November30, 2004. [newsphoto]

Across the world, activists and governments were due to mark the day with events drawing attention to the disease and promoting its eradication.

Khalid Malik, resident coordinator for the UN in China, praised the new-found zeal of China's leaders, but said the challenge now was to ensure their policies reached the villages.

"It is a society where there is still a lot of stigma, a lot of uneasiness about talking about sexual matters. These are large societal issues to confront," he told Reuters.

India is putting on four special trains that will criss-cross the country, spreading awareness mostly in rural areas, said S.Y. Quraishi, head of India's National Aids Control Organization.

"This is a youth problem because they are sexually most active and only they can solve this problem," he added.

Quraishi was speaking at a rally in New Delhi where thousands of schoolchildren wearing colorful caps with red ribbons held banners that read "Chastity-Weapon against AIDS" and "AIDS - Incurable but Controllable."

WOMEN AND GIRLS

Activists said attitudes toward women and gays were hampering efforts to fight the disease.

The finger in Cambodia, where the disease is thought to be spreading in rural areas, was pointed at straying husbands spreading AIDS among women and girls, now the most vulnerable group and the theme of this year's AIDS Day.

"I would like to send a message to those unfaithful husbands not to bring AIDS home to kill your innocent wife," said Dr Tia Phalla, head of the national AIDS authority.

In the tiny Pacific state of Papua New Guinea, where rape and multiple wives are common, estimates put the number of likely cases between 1 million and 1.5 million by 2015-2020 from 67,000, potentially wiping out a generation and destroying the economy.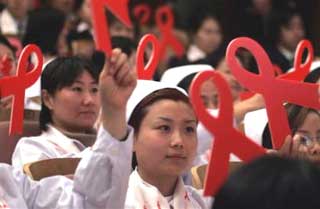 Chinese nurses holding up red ribbon cutouts during a ceremony held to mark World AIDS Day in Beijing Wednesday, Dec. 1, 2004. The number of people contracting the AIDS virus in China is rising and infections are spreading from high-risk groups such as drug users to the general population, according to a study released Tuesday. [AP]

"So far it seems many PNG men are treating this issue as a joke. It is they who are responsible for spreading HIV/AIDS and it is they who will destroy this nation's future," PNG's Post-Courier newspaper said in an editorial.

By contrast, in Thailand, a mass public awareness campaign in the 1990s has been credited with dramatically reducing the number of new HIV infections. Youngsters there paraded through shopping centers dressed as condoms to distribute condoms to teenagers.

But in neighboring Vietnam, where there are an estimated 85,000 HIV cases, Health Minister Tran Thi Trung Chien said stigma remained and in conservative Singapore activists said antiquated laws were hurting the fight against AIDS.

"Since gay sex is illegal, how then can any agency or organization in Singapore promote safe sex among men ... without being complicit in abetting illegal activity?" said Stuart Koe, chief executive officer of Asian gay group, Fridae.com.

Those stigmas are also keeping people from getting tested, meaning the real numbers of those infected remain unknown.

In Sri Lanka, President Chandrika Kumaratunga said there were about 4,800 cases, but that a lack of counselling and testing meant numerous cases were going unreported.

India has over 5.1 million people infected with HIV, the second-largest number after South Africa.

The two countries were playing a cricket test in Calcutta Wednesday and a number of players were wearing red ribbons on their white shirts.

The Chinese government estimates it has 840,000 people with HIV or AIDS, but some experts say the figure could be much higher if all HIV positives and AIDS patients were accurately counted..




Today's Top News
Top China News

Condoms, parades mark World AIDS Day




Shaanxi mine blast toll confirmed at 166




Hu visits AIDS patients in Beijing




Wen told Koizumi: Shrine visits hurts ties




Noisy neighbourhood? Take 'em to court




Tourist sites to raise admission fees