Egyptians: Assad ready for Israel talks
(Agencies)
Updated: 2004-12-01 11:21
Syrian President Bashar Assad scrambled Tuesday to clarify his requirements for resuming peace talks with Israel, after an Egyptian official said Syria was ready to restart the stalled negotiations without conditions.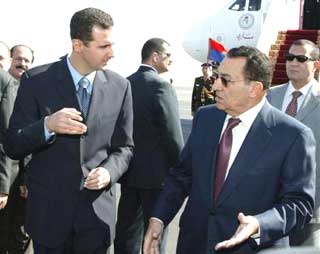 Egyptian President Hosni Mubarak, right, receives his Syrian counterpart Bashar Assad at the airport of the Red Sea resort of Sharm el-Sheik, Egypt, Tuesday, Nov. 30, 2004. Both leaders discussed the Middle East peace process and bilateral relations. [AP]

Assad even called Lebanese President Emile Lahoud to reiterate his stance, stressing a peace based on U.N. resolutions, Israel's withdrawal from all occupied Arab lands, and the resumption of negotiations "from the point they stopped in the past," according to a statement issued by Lahoud's office. Assad's government also sent out a flurry of media statements to clarify the issue.

The mixed messages came after Assad met earlier Tuesday with Egyptian President Hosni Mubarak in the Red Sea resort of Sharm el-Sheik.

"Syria expressed its readiness to start direct negotiations with Israel without conditions," Mubarak spokesman Maged Abdel Fattah said, referring to the substance of the meeting. He added that Syria does not insist on any agreements made in previous negotiations.

A similar series of back-and-forth claims occurred last week, when U.N. envoy Terje Roed-Larsen met with Syrian leaders in Damascus and emerged to report that Assad was ready to resume peace talks with Israel "without preconditions."

Syria-Israel negotiations were suspended indefinitely in January 2000. Syria wanted assurances that Israel would withdraw from the Golan Heights, captured in 1967, and turn over land extending down to the Sea of Galilee.

Israel refused to make such a pledge and insisted that the issues of security arrangements and normalization be spelled out first.




Today's Top News
Top World News

China's HIV cases rising, true figure unknown




Hu visits AIDS patients in Beijing




Wen told Koizumi: Shrine visits hurts ties




Noisy neighbourhood? Take 'em to court




Tourist sites to raise admission fees




Beijing seeks Olympic theme song