Medical attraction for expats in China
(Shanghai Star)
Updated: 2004-12-01 10:50
His first experience visiting a physician in a hospital in Pudong last year was unforgettable and unpleasant for Bill, an Australian working in Shanghai.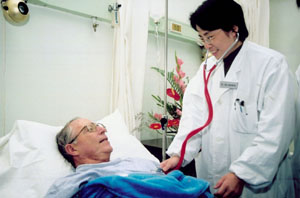 A foreigner receives medical check in a Shanghai hospital. [newsphoto]

The Chinese doctors seemed uninterested in my ailment, but curious about my life. "How long have you been in Shanghai? What's your profession?" Bill recalled.

After the long enquiry ended, Bill was given a small plastic cup. "Taking a stool sample for testing" was the physician's only order. But the patient had been tortured by diarrhea for two days, leaving little or nothing in his intestinal system.

Finally, Bill realized the function of the small cup and had the test done. Since then, he has decided to never go back to local hospitals.

An official figure shows that around 100,000 foreign residents are living and working in Shanghai. The city is rich in medical resources with over 600 hospitals, but fewer than 20 hospitals have special services for expats.

The city's public health system proved its ability to control severe acute respiratory disease (SARS) in 2002, but the healthcare services still remain a concern for many expats.

According to the 2004 White Paper issued by the American Chamber of Commerce People's Republic of China and the American Chamber of Commerce in Shanghai, the city's healthcare system continues to lag well behind that of countries with which Shanghai competes for foreign residents and investment.

Sanitation, germ control and staffing standards in local hospitals fall short of international norms, and foreign participation in the sector remains stunted due to confusing and unfavourable investment laws.

Service and cost

Expats enjoy the same healthcare service as Chinese citizens. They can go to all local hospitals, paying the same cost as locals, said Song Guofan, spokesman of Shanghai Health Bureau.

But the problem lies in the service and management of local hospitals. Long waits, insufficient communication with doctors due to language barriers, complicated payment procedures and the unpleasant hospital environment.

The attitude of nurses and doctors at local hospitals are not so good and their performance lags behind international standards, complained Stephen Lin from Hong Kong.

Lin once sent her daughter to a local children's hospital, where the pediatrician prescribed an array of drugs including many antibiotics unnecessary for treating the child's slight cough. The nurses didn't provide any guidance on how to give the child such bitter-tasting pills, said Lin.

With limited funding from the government, public hospitals can'st afford to recruit enough nursing staff, said professor Wu Jinglie, director of administration at Shanghai Fudan University during the World Class Health Care Management for Shanghai's conference held last week.

Wu stressed that although the English communication skills of local doctors are insufficient, expats actually know little about the skills of Chinese doctors, who are able to perform many procedures.

Patients can feel like they are in five-star hotels in some hospitals with beautiful environments, fully-integrated hospital information and the care of the nursing staff. said Peter Kappert, chief executive officer of Swiss Sonnenhof AG, which specializes in hospital management. He said poor management in public hospitals leads to poor service.

The VIP wards in major hospitals or joint-venture clinics are generally the choice for expats, but these facilities are limited and the cost is far more than the general hospitals.

The price is unreasonably high in such joint venture hospitals. I once paid a total of 3,200 yuan (US$386) for a heart test and blood test, which is actually several times the price in other local hospitals, said a German surnamed Wall who asked not to have the hospital's name mentioned.

The unmet medical needs of expats not only influences the city's investment environment but also means the abundant local labour market is missing out on business as many expats travel to Hong Kong or home for treatment.

Potential market

The city is aiming to develop its international status, which means at least 5 per cent of its 16 million population would come from other countries and areas. This could be a huge market for medical service providers as well as a source of economic growth for the city.

Analysts suggest Shanghai should further open its healthcare market to foreign participants whose resources, experience and expertise can benefit the city's healthcare services.

Private healthcare facilities bring fresh elements of flexibility and better management to the public. And a healthcare system with a good mix of private and public facilities may provide everyone access to services they need, suggested Thomas Zeltner, director of the Swiss Federal Office for Public Health.

Municipal government spokeswoman, Jiao Yang, said that both foreign and private capital investment were welcome in all kinds of healthcare facilities, during a news conference early this year.

Shanghai was selected by the Ministry of Health for a pilot project to offer foreign medical services. The Shanghai International Medical Zone initiated in 2003 is intended to attract more foreign providers of medical care.

Early this year, the city's Foreign Investment Commission approved another two joint venture comprehensive hospitals. And Shanghai United Family Hospital in Hongqiao area will be fully operational by the end of this year. The hospital is co-invested in by Shanghai Changning District Central Hospital and American Chindex International Inc.

The policy is still restrictive. Wholly foreign-owned investments are prohibited and foreign investors are limited to a maximum 70 per cent stake in joint venture healthcare facilities. A minimum US$2.4 million investment is required.

Meanwhile, major hospitals like Huashan are actively seeking co-operation with foreign partners including Harvard Medical School and John Hopkins University to improve its management and medical practice.

In addition to management improvement, China's medical education system for nurses and general physicians is changing. But it will take several years to improve its overall levels.

Local hospital presidents are ambitious to attract more expats as well as travellers through lower costs.

In Singapore, 40 per cent of patients come from other countries, and an annual 1.5 million foreign patients take medical trips to India, aid Wu.





| | |
| --- | --- |
| | |
| Guo Jingjing returned to training session | |

| | |
| --- | --- |
| | |
| U2's 'Bomb' explodes at No.1 on US charts | |

| | |
| --- | --- |
| | |
| Girl Zhang Ziyi a beauty fodder | |
Today's Top News
Top Life News

Prudent course charted for 2005 deckhead




Chinese leaders value role of economic audit




All 166 trapped miners confirmed dead




Male homosexuals estimated up to 12.5m




Skyworth scandal ignites stocks sell-off




Inclusive UN reform urged