Car bomb kills seven, wounds 20 in Iraq
(Agencies)
Updated: 2004-12-01 09:12
A car bomb in a crowded market north of Baghdad killed at least seven civilians and wounded 18 Tuesday as a U.S. military patrol passed by.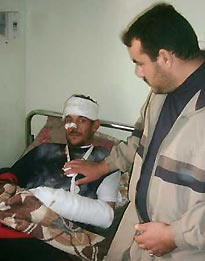 An Iraqi policeman is treated in a hospital after being injured when a powerful car bomb exploded in Baiji, 112 miles north of Baghdad, November 30, 2004. The bomb, which was detonated as a U.S. military convoy was passing, killed at least seven people and wounded 20. [Reuters]

As well as daily attacks on Iraqi security forces and civilians, November has been one of the deadliest months for U.S. troops, with at least 134 killed -- just one short of the figure in April which was the highest monthly toll so far.

The U.S. military says it expects violence to escalate before elections scheduled for Jan. 30.

The bomb went off in a busy staging area in the oil-refining town of Baiji, 180 km (112 miles) north of Baghdad, as a U.S. military patrol was passing. The blast destroyed market stalls and caused panic among scores of shoppers, witnesses said.

A doctor at Baiji hospital, Samir Mehdi, said he had received seven dead civilians from the blast and 18 wounded. A U.S. military spokesman said two U.S. soldiers were wounded.

In a separate attack in the town, an insurgent fired a rocket-propelled grenade at a U.S. tank, wounding a U.S. soldier and damaging the tank, the U.S. spokesman said. And in Baghdad, a suicide car bomb exploded near a U.S. convoy on the road to the airport, wounding five soldiers, the military said.

Baiji, site of a major oil refinery, has seen a surge in violence over the past three weeks, since U.S. forces launched their offensive on the rebel town of Falluja.

That assault sparked guerrilla attacks across a swathe of Sunni Muslim regions of the country including towns such as Samarra, Tikrit, Baquba and Mosul, as well as Baiji.

The U.S. military says it expects more attacks in the build up to the elections and has said it will do all it can before then to quell the insurgency and put Iraqi forces in charge of security.

Leading Sunni Arab political parties want the elections postponed by up to six months, saying their supporters will not be able to vote freely due to the violence in Sunni areas.

ELECTION DELAY?

Sunni Arabs make up only around 20 percent of Iraq's population but dominated the ruling elite during the rule of Saddam Hussein. Several Sunni parties say they will boycott the elections unless the government agrees to postpone them.

But parties representing Iraq's 60-percent Shi'ite Muslim majority, oppressed under Saddam, are demanding polls go ahead on time to cement their political dominance in the new Iraq.

Backed by Ayatollah Ali al-Sistani, Iraq's most revered religious leader, Shi'ite parties have refused to accept any delay, saying that would mean giving in to guerrilla violence.

Iraq's two main Kurdish political parties initially signed a petition calling for a delay in the vote, but have since said they would be happy for the election to go ahead as scheduled.

As part of efforts to generate enthusiasm for the elections, Prime Minister Iyad Allawi said Tuesday he would travel to Jordan this week for talks with Iraqi exiles. The government dismissed reports that exiles with links to the insurgency would be present at the talks.

STEPPED UP ATTACKS

Insurgents determined to disrupt the elections, drive out U.S.-led soldiers and topple the American-backed government have repeatedly attacked U.S. forces, Iraqi police and soldiers.

Monday, a suicide car bomber plowed into policemen waiting to collect their salaries at a police station west of Ramadi, killing 12 people and wounding at least 10. North of Baghdad, a U.S. soldier was killed in a roadside bomb blast.

At least 981 U.S. soldiers have been killed in action in Iraq since last year's invasion. More than 9,000 have been wounded, 5,000 of them seriously, according to Pentagon data.

The U.S. military has said it will move into rebel-held areas by the end of the year to pacify them before elections. Earlier this month, they crushed insurgent forces in Falluja and may have to do the same in other rebel towns such as Ramadi.

Apart from the violence, Iraqis have suffered a public health disaster after the 2003 war that has left the medical system in tatters and increased the risk of disease and death, according to a report released Tuesday.

Medact, a British-based charity, said cases of vaccine- preventable diseases were rising and relief and reconstruction work had been mismanaged.

Iraq's government criticized the report as poorly researched and said post-war health funding had been greatly increased.

Acting to hunt down insurgents and criminals, U.S. Marines, British troops and Iraqi forces have launched an operation in a cluster of lawless towns on the Euphrates just south of Baghdad.

Insurgents have been largely driven out of Falluja but they have regrouped elsewhere, particularly in Iraq's third largest city, Mosul, 390 km (240 miles) north of Baghdad.

The U.S. military says Jordanian guerrilla leader and al Qaeda ally Abu Musab al-Zarqawi, its top foe in Iraq, may have moved to Mosul ahead of the Falluja offensive.

More than 50 bodies have been found there since Nov. 15, and Zarqawi's Al Qaeda Organization of Holy War in Iraq has claimed responsibility for killing dozens of soldiers and policemen.

In northern Iraq near the border with Turkey, up to 40 people drowned when an overcrowded barge capsized on a swollen river, families of the victims said. The flat barge boat was overturned by a surge of water on the Tigris tributary.




Today's Top News
Top World News

China's HIV cases rising, true figure unknown




Hu visits AIDS patients in Beijing




Wen told Koizumi: Shrine visits hurts ties




Noisy neighbourhood? Take 'em to court




Tourist sites to raise admission fees




Beijing seeks Olympic theme song