Wen told Koizumi: Shrine visits hurts ties
By Sun Shangwu (China Daily)
Updated: 2004-11-30 01:23
Japanese leader's repeated visits to the Yasukuni Shrine are the major obstacle hindering the advancement of China-Japan relations, Premier Wen Jiabao said Tuesday.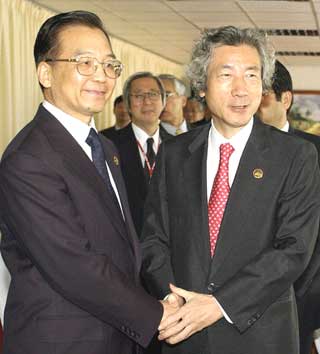 Chinese Premier Wen Jiabao (L) shakes hands with Japanese Prime Minister Koizumi at the start of talks in Vientiane, Laos November 30, 2004 [Reuters]

Wen held talks with his Japanese counterpart Junichiro Koizumi on the sidelines of the Association of Southeast Asian Nations (ASEAN).

The major obstacle now is on politics and the core problem is the Japanese leader's visit to the shrine, said Wen.

"How this issue is handled will directly influence the development of bilateral relations," Wen was quoted as saying in the meeting by a Chinese Foreign Ministry spokesman.

"The person who started the trouble should end it," Wen was quoted, echoing a traditional Chinese saying in his meeting with the Japanese leader.

Koizumi has visited the shrine each year since taking office in 2001. The shrine houses 14 Class-A World War II criminals and is seen as the symbol of Japan's militaristic past.

"We hope that the Japanese leader can proceed for overall China-Japan ties and deal with this issue correctly, and not disturb hard-won Sino-Japanese relations," Wen was quoted as saying.

One principle for guiding China's relations with Japan is known as "taking history as a mirror and facing the future."

This means the two countries should treat history correctly and as a foundation stone of bilateral friendship, according to Wen.

He emphasized that China and Japan share many common interests and must promote bilateral relations from "long-term" and "strategic" perspectives.

China and Japan must develop their friendship and this is the popular sentiment and general course of development, said Wen, adding that it is also the knowledge guided by history.

Koizumi said the two countries have made progress in economic and trade co-operation as well as in cultural and non-official exchanges.

The friendship between the countries is good for both sides, he noted.

Japan's invasion brought disastrous consequences to the Chinese people, and it should conduct a self-examination of history and will not launch warfare again, said Koizumi.He said that Japanese youth must also have such knowledge and that Japan must develop friendly relations with China.

Besides Koizumi, Wen also held separate meetings with Indian Prime Minister Manmohan Singh, New Zealand Prime Minister Helen Clark, Australian Prime Minister John Howard and President of Lao National Assembly Samane Viyaketh Tuesday.

On Monday, he met separately with Sultan Haji Hassanal Bolkia of Brunei, President of Philippines Gloria Macapagal Arroyo and Prime Minister of Myanmar Soe Win.

When meeting with Singh, the two leaders touched upon the border issue, which is regarded as an important issue in bilateral ties.

The envoys of the two countries have so far held four rounds of talks and achieved positive results, according to Wen.

So long as the two sides proceed from the overarching situation, adhere to the principles of equal consultation and mutual understanding, they will find solutions through sincere talks, said Wen.

Singh said Indian Government has "strong political will" to solve the border problem.

He hoped the two sides can reach consensus on solving the border problem as soon as possible.

On bilateral ties, Wen said the two countries have "thousands of reasons" to enhance their co-operation.

"China's development will not cause threats to India, and also India's growing power will not threaten China," said Wen.

Singh said that India's friendship with China is significant for peace and prosperity in Asia and the world.

He expressed satisfaction on bilateral economic and trade relations and indicated a desire to tap potential.

Premier Wen flew back to Beijing yesterday after wrapping up his official visit to Laos as well as the summit meeting with leaders of ASEAN, Japan and the Republic of Korea.





Today's Top News
Top China News

China's HIV cases rising, true figure unknown




Hu visits AIDS patients in Beijing




Wen told Koizumi: Shrine visits hurts ties




Noisy neighbourhood? Take 'em to court




Tourist sites to raise admission fees




Beijing seeks Olympic theme song