At least 15 dead in Indonesia plane crash
(Agencies)
Updated: 2004-11-30 00:21
JAKARTA, Indonesia - A Lion Air passenger plane carrying more than 150 people skidded off a runway in central Indonesia and split into two pieces Tuesday, killing at least 15 people, airline officials and witnesses said.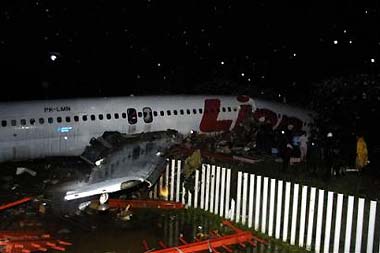 Rescuers examine the wreckage of Lion Air passenger plane after it skidded off the runway in Solo, Central Java, Indonesia, Tuesday, Nov. 30 , 2004. The accident killed at least 12 people and injuring more than 50 others.[AP]

At least 50 people were injured, officials said. Some survivors were still stuck in the wreckage three hours later, media reports said.

The accident occurred at about 6 p.m. as Flight JT583 landed in heavy rain in Solo, a thriving tourist town about 310 miles southeast of the capital, Jakarta, the station said. The MD-82 plane took off from Jakarta with more than 146 passengers and seven crew members aboard, airport officials said.

The plane stopped in the East Java town of Surabaya before heading to Solo, where it skidded off the runway, broke up and came to rest in a nearby cemetery about 100 yards away, airport officials said.

"The plane hit the tarmac and we all started yelling 'Allahu akbar!' (God is Great!)," one passenger told Metro TV. "I grabbed a women near me and just tried to reach (the) emergency exit. Everyone around me was screaming."

Officials from three hospitals near Solo told The Associated Press they counted 15 dead and at least 50 injured from the crash.

Metro TV showed a chaotic scene at the airport, with dead and injured passengers lying on the terminal floor and crying relatives searching for news of their loved ones. The plane sat in darkness.

"My plane crashed! My plane crashed!" one passenger screamed into a cell phone. "I've lost everything!"

Lion Air spokesman Hasyim confirmed the crash and offered condolences to the dead and injured. But he said the cause of the crash was not yet known.

Lion Air is Indonesia's top budget airline and recently announced expansion plans. The airline said earlier this month it was buying as many as 25 new planes and expanding routes.





Today's Top News
Top World News

Divorce rises with changing marriage and love




Death toll rises to 63 in Shaanxi mine blast




ASEAN tariff-cut pact steps toward free trade




Three-way dialogue goes win-win




"Income gap" tops senior officials' concerns




Al Qaeda's Zawahri says will keep fighting US