Luxury goods storming Chinese cities
(Agencies)
Updated: 2004-11-30 09:35
Armani, Louis Vuitton, Cartier: The globe's luxury goods purveyors are plowing millions of dollars into China, salivating over the potential of one of the hottest new countries to do business.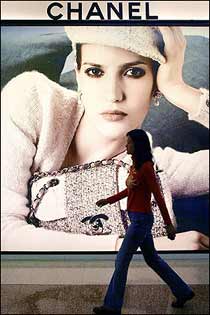 A woman walks pass an illuminated billboard ad for French fashion house Chanel in Shanghai. [newsphoto]

Considered a commercial backwater 15 years ago, only the mightiest of corporate giants such as Coca-Cola, Volkswagen and Unilever dared to battle for consumers' hearts in China.

Today China's 1.3 billion people march to the allure of luxury brands that hold up the illusory promise of beauty, wealth and power.

"Chinese most generally want a stamp of approval, a badge that says that I'm moving forward in life -- whether it's a car, a nicer fridge or new clothes," said Julien Lapka, a planning director at advertising agency Saatchi and Saatchi.

As if that marketing strategy were engraved in stone, managers of brands synonymous with wealth have stormed Chinese cities with revolutionary-like euphoria, building flashy stores on the expectations that if it's expensive it will sell.

And they are being proven right.

Investment bank Goldman Sachs estimates the Chinese luxury goods market is already turning over billions of dollars and in 10 years time it will be one of the world's biggest.

On Shanghai's Nanjing Road, the golden mile of China's wealthiest and most cosmopolitan city, the chic and the cool that usually grace Paris and London catwalks have opened sumptuous, sexy boutiques selling the latest pret-a-porte couture.

No matter whether it's Gucci or Versace -- all are as eager to capture the pocket books of China's increasingly wealthy jet-setting crowd that according to the China Brand Strategy Association is aged between 30 to 40.

The association claims that some 175 million or 13.5 percent of Chinese can afford to purchase a variety of luxury brands, most of whom are buyers of personal accessories like cosmetics, watches, wallets, clothes and jewels.

This relatively flush group earns as much as 240,000 yuan (US$30,000) a year and has between 300,000 to 500,000 in savings.

By 2010 their numbers are expected to increase to 250 million.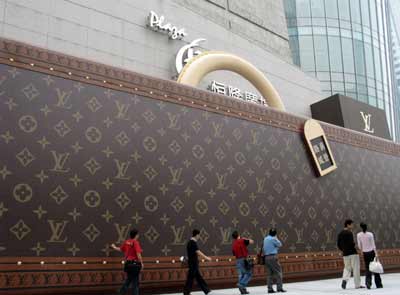 Pedestrians pass by a giant Louis Vuitton ad at the Plaza 66 shopping mall in Shanghai. For the past few years, luxury shops have been mushrooming in China's big cities. [newsphoto]
"The luxury goods market in China has entered a period of stabilised growth, and I expect it will grow at a speed of about 20 percent annually in the coming five years," said Yang Qingshan, secretary general of the association.
Josephine Chien, China deputy general manager for French fine jeweler and watchmaker Cartier, said that all the world's top luxury brands were here for only one reason.
"We see the market potential... we see that the customers are here," said Chien, who will open Cartier's China flagship store on Shanghai's swankiest location the Bund, the glamorous riverbank that is as much a paean of the city's decadent past as its uncharted but likely very wealthy future.
Although some brands such as Armani have just arrived in China others such as German men's ware designer Hugo Boss have been in China for nearly a decade. For Cartier, which plans to expand to 10 stores throughout China, the bet has paid off handsomely with its current marble-decked Shanghai store pulling in more than five million yuan a month.
And while customers in China are not as sophisticated as in other Asian countries, the newness and freshness of the market makes shoppers particularly "opened minded" and gives companies greater creative opportunity, said Chien.
Such is the mouthwatering potential that despite China's unresolved counterfeiting issues the market is already moving into another phase of development, said Wang Ling, who handled Louis Vuitton's promotion for its grand opening in Shanghai two months ago.
"Basically most of the big international brands have entered the Chinese market, and now the second and third level brands are thinking about coming in," Wang said.