Divorce rises with changing marriage and love
By Wang Jiaquan (China Daily)
Updated: 2004-11-30 11:28
Between October 1, 2003 and September 30, 2004, within a year of China's new marriage registration regulations going into effect, the marriage registration centre of Xicheng District in Beijing saw 1,783 couples get divorced, almost double the number of divorce cases in the previous 12 months.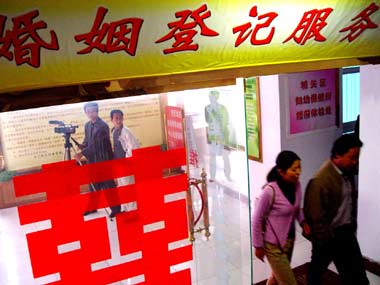 A couple walks out of a marriage registration centre in Lanzhou, Northwest China's Gansu Province. Divorce rates in some major Chinese cities are found to have increased over the last 12 months. [newsphoto/file]
The rise in the divorce rate has also been reported in other districts in Beijing and cities like Shanghai, Tianjin, and Guangzhou, although the national divorce rate itself will not be available until next year.
Zhou Baojun, a marriage registration clerk at the Xicheng centre in Beijing, attributed the higher rate partially to the new Marriage Registration Regulations, which she said have made divorce much easier.
Divorce procedures used to be so fastidious and exhausting that many people decided to endure dead marriages rather than go through the process to end it. Then there were traditions to get over, with divorce being traditionally regarded as disgraceful, Zhou said. "Opposition from parents, gossip from neighbours and colleagues, and division of property - all these problems could put people off, not to mention the interference of work units or neighbourhood committees by persuasion or mediation."
But the new regulations exempt the party who wants the divorce from getting a reference, a previous requirement, from his or her employer or community administrator. "It saves them a lot of trouble now they don't need such a reference letter at the cost of their privacy," Zhou said.
With the new regulations, "divorce has become a completely personal matter," said Professor Wang Zhenyu with the Chinese Academy of Social Sciences (CASS).
The revised Marriage Law, which took effect in 2001, is also considered to have loosened up legal standards in divorce suits. The law stipulates that a divorce suit filed because of the other side's ex-marital affairs, domestic violence, and addiction to drugs or gambling should be granted if court mediation fails. Such detailed provisions, absent in the old marriage law, mean release for those who are confined in "dead marriages," Wang said.
The rising divorce rate has become the theme of some soap operas. One of them, "Chinese-Style Divorce," has become a prime-time hit in the past two months in Beijing, Chengdu and Chongqing, with TV audiences of 10, 15 and 20 per cent according to a survey by AC Nelson. The novel was a bestseller at online bookstores immediately after it hit the shelves.
The story, of a suspicious wife and a broken down husband, also triggered enthusiastic online discussions about marriage. Many Internet surfers in online discussions say the drama more or less reflects their own lives.
But have the revised law and new regulations lowered people's thresholds for divorce, as some people have anticipated? Wang Zhenyu argues that it is unfair to blame the law and regulations for the rise.
"The increased number of divorce cases are due to social changes. The marriage law and registration regulations were revised to keep up with the pace of social development. They are not made or revised to create social problems," she said.
A researcher of marriage and family affairs, she observes that in an era when essential changes are taking place in every corner of society, social values can by no means escape some sort of impact.
"It's natural that people's conceptions of love, marriage and happiness are evolving while their culture is undergoing drastic change and society becomes more open. Conception changes are bound to lead to behavioural changes, such as ex-marital affairs, which often kill a marriage," Wang said.
The initial analysis of an on-going study by Wang and her colleagues on divorce shows that some 70 to 80 per cent of divorce cases were caused by ex-marital affairs.
"Even without the new law and registration regulations, the divorce figure would climb, perhaps just not in such a burst," Wang said.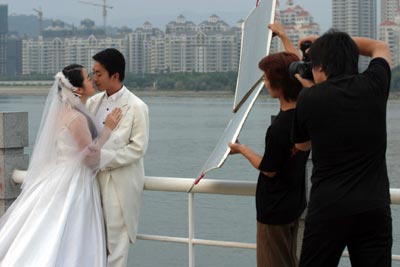 A couple poses at a park in Fuzhou of Fujian Province while staff from a wedding photo studio take their pictures. [newsphoto/file]
Statistics from the Ministry of Civil Affairs say the divorce rate in China rose from 0.07 per cent in 1980 to 0.21 per cent last year.
The classical Chinese oath of love, "to remain loyal to each other even if the seas run dry and the rocks crumble," is becoming a sheer literary curio, Wang said.
What's more important, she said, people have begun to change the idea that divorce is a bad thing, as long as the decision is a reasonable one.
From her study she also finds that Chinese people now care more about the quality of their family life and personal value. "Fewer people, especially the young, cherish the traditional value of mutual tolerance. When they feel that if it's impossible to get along with each other, divorce becomes a natural choice."
Marriage registration clerk Zhou Baojun finds that more than 80 per cent of divorced couples are between 30 to 40 years old, and many are well-educated, career people..
"They are usually more open-minded and not willing to keep a family in name at the expense of their personal happiness," Zhou said.
Keeping a cool head
One anonymous Internet surfer said on an online message board that marriage should not become a ball and chain.
Sociologist Wang Zhenyu agrees. "If a couple fail to or are unwilling to nourish a lasting affectionate feeling towards each other, laws and regulations cannot save their relationship, though they may be tied together by law papers and marriage certificates."
But Jiang Lanping, an official with the Xicheng District Marriage Registration Centre, is not happy with the fact that many people do not seem to be treating marriage seriously. A young couple came to the centre for divorce registration only a week after they registered to get married simply because of disagreements about wedding arrangements. Another couple who were registered for divorce one morning returned only a few hours later reunite.
Friction between husband and wife is unavoidable, said Hao Maishou, a Tianjin-based sociologist. Young couples should learn to accommodate and tolerate each other.
Hao, at the Tianjin Academy of Social Sciences, warns that marriage is something that should be managed. "Without good management from both sides, there will be no perfect conjugal match. Too hasty a decision on divorce, I think, is irresponsible."
Zhou Baojun said couples with children who intend to divorce should think twice about the feelings of their children before they make the move.
Though it is not a required procedure in the new regulations for a registration clerk to mediate between people who want to get divorced, Zhou said she does spend some time doing so.
"I hope my efforts can help them reconsider if their decisions are reasonable. Young people are often hotheaded and middle-aged people are usually under heavy work burdens and family pressure, and they might come to a decision hastily.
"Children of school age are usually very sensitive on the matter of their parents' divorce. If I find a couple have children at school, I always ask them if they have made good arrangements to deal with the negative psychological impact on their children," Zhou said.
In the first 10 months of this year, Zhou saw 25 couples change their minds after her counselling.
"If divorce means the end of an unhappy past and the start of a shiny day, that's not bad. But isn't it much better if all couples can enjoy the bliss of peaceful family life as they wished for when they first made their choice?" Zhou said.
Today's Top News
Top China News

Divorce rises with changing marriage and love




Death toll rises to 63 in Shaanxi mine blast




ASEAN tariff-cut pact steps toward free trade




Three-way dialogue goes win-win




"Income gap" tops senior officials' concerns




Al Qaeda's Zawahri says will keep fighting US