U.N. peacekeepers to stay in Haiti
(Agencies)
Updated: 2004-11-30 09:50
The Security Council voted unanimously Monday to keep U.N. peacekeepers in Haiti for six months and called for increased aid for the poverty-stricken nation.
The resolution also called for the inclusion of those who have rejected violence in the political process leading to elections next year.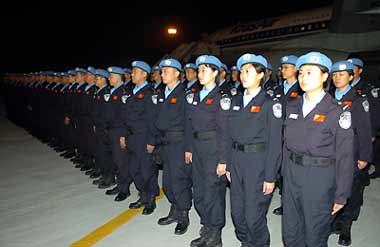 Some 95 Chinese peacekeepers, including 13 women, leave Beijing for Haiti on Sunday, October 17, 2004 on a six-month UN mission. They will join another 30-member team which left one month ago. [Xinhua]
It said "the situation in Haiti continues to constitute a threat to international peace and security in the region" and continues to pose challenges to the Caribbean nation's political, social and economic stability.
The resolution extended the U.N. mission until June 1, 2005, "with the intention to renew for further periods."
Bands of rebels and former soldiers launched a three-week rebellion in February that ended with President Jean-Bertrand Aristide's ouster and the arrival of a U.S.-led peacekeeping force. It was replaced in June by a 3,000-member U.N. force led by Brazil.
Despite the international presence, the rebels and former soldiers have refused to abandon police stations across the country, saying they need to stabilize Haiti until the government reinstates the military and the police hire more recruits. They also have refused to disarm.
The Security Council condemned "all acts of violence and the attempts by some armed groups to perform unauthorized law enforcement functions in the country." It stressed an urgent need for disarmament, demobilization and reintegration of combatants into mainstream society.
Council members said "political reconciliation and economic reconstruction efforts remain key to the stability and security of Haiti."
The resolution encouraged the interim government of Prime Minister Gerard Latortue to continue to seeking a way to include those who have not taken part in violence in elections next year.
The resolution condemned human rights violations and expressed concern at the arbitrary detention of Haitians for their political affiliation. It urged the government to release all those who have not been charged.
The council also urged the transitional government, donor countries and international financial institutions to quickly develop, finance and launch economic development projects.
U.N. mission chief Juan Gabriel Valdes told reporters last week that Secretary-General Kofi Annan had assured him the United Nations (news - web sites) will be in Haiti as long as it takes.
In the Haitian capital Port-Au-Prince Monday a crowd marched through a slum calling for peace and Aristide's return from exile.
The group, comprised mostly of young men and boys, some beating cymbals and blowing horns, marched through the seaside slum of Cite Soleil carrying umbrellas and posters emblazoned with photos of Aristide.
Journalists who witnessed the entire march estimated several hundred people demonstrated, though the crowd waned to several dozen toward the end.
Today's Top News
Top World News

ASEAN tariff-cut pact steps toward free trade




Three-way dialogue goes win-win




"Income gap" tops senior officials' concerns




Al Qaeda's Zawahri says will keep fighting US




Death toll rises to 50 in Shaanxi mine blast




Half Chinese not feel "close" with Japanese