Late night sex discussions for China's TV
(Agencies)
Updated: 2004-11-30 08:55
A Beijing-based company will broadcast a nationwide late night TV program about sex next year, a rarity in a country where sex had been a strict taboo until recently.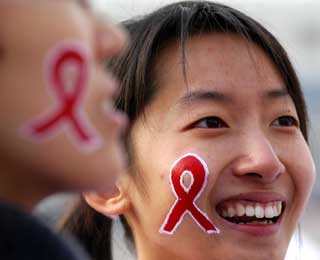 About 1,000 college students, with red ribbons painted on their faces, gather in Peking University to join a run to promote HIV/AIDS awareness November 28, 2004. The cases of HIV positive and AIDS are on the rise in China, prompting the government to take various measures to check the alarming rising trend. [newsphoto]

The program, titled Masks, will be broadcast in more than 50 cities, including Beijing, between 11 p.m. to 1 a.m., a forum on sex and AIDS was told Sunday.

The program will be launched by the Beijing Shixi Media Co., which claims the program is first of its kind in China.

The program would have different people talking about sex, said Liu Xicheng, board chairman of Beijing Shixi.

Liu said the hosts of the program would also wear masks, without explaining why.

Liu said he hoped the program would help people with sexual problems and promote safe sex.

While the Chinese were quite conservative about sex, the world's biggest condom maker said each Chinese had on average 19.3 partners, topping the sex league table where the world average is just 10.5.

The company said the figures were obtained through a global sex survey in 2004, but few Chinese are convinced.

Dai Zhicheng, head of the Chinese Association of STD Prevention and Control, said that according to a survey by Beijing University in 2002, Chinese women had only 1.2 sex partners on average, while 23 percent of them had two or more sex partners.
The sex and AIDS forum was sponsored by the Beijing People's Radio and participated by some well-known sex scholars.


| | |
| --- | --- |
| | |
| Shark lays eggs in Nanchang aquarium | |

| | |
| --- | --- |
| | |
| Ice beauty Faye Wong sings in Taipei | |

| | |
| --- | --- |
| | |
| It's a Girl, and a Boy, for Julia Roberts | |
Today's Top News
Top Life News

ASEAN tariff-cut pact steps toward free trade




Three-way dialogue goes win-win




"Income gap" tops senior officals' concerns




Al Qaeda's Zawahri says will keep fighting US




Death toll rises to 50 in Shaanxi mine blast




China questions dollar slide