Bush nominates Gutierrez to commerce
(Agencies)
Updated: 2004-11-30 01:18
President Bush nominated Kellogg CEO Carlos Gutierrez on Monday as his next commerce secretary.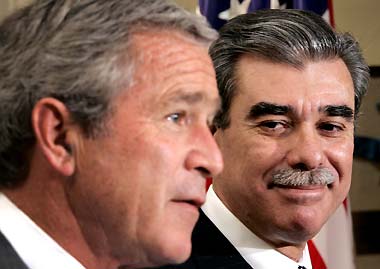 Carlos Gutierrez [Reuters]

If confirmed by the Senate, the Cuban-born Gutierrez, 51, will replace Don Evans, one of several Bush cabinet members to leave the administration after the president's re-election earlier this month.

In a White House ceremony, Bush hailed Gutierrez as a "great American success story" who learned English as a bellhop in a Miami hotel and rose through the ranks of Kellogg, starting as a truck driver delivering Frosted Flakes.

At every stage of his career, said Bush, "Carlos motivated others with his energy and his optimism and impressed others with his decency."

Gutierrez has been chairman of the board of Kellogg Company since April 2000 and chief executive officer since April 1999. He had joined the company in Mexico in 1975.

He and his wife, Edilia, live in Battle Creek, Michigan. They have three children.




Today's Top News
Top World News

ASEAN tariff-cut pact steps toward free trade




Three-way dialogue goes win-win




"Income gap" tops senior officals' concerns




Procedures for foreign investment simplified




Death toll climbs in coal mine disaster




Half Chinese not feel "close" with Japanese