ASEAN tariff-cut pact steps toward free trade
By Sun Shangwu (China Daily)
Updated: 2004-11-30 01:11
China and the Association of Southeast Asian Nations (ASEAN) yesterday signed a landmark agreement to cut tarrifs, a substantial step towards creating the world's biggest free trade area (FTA).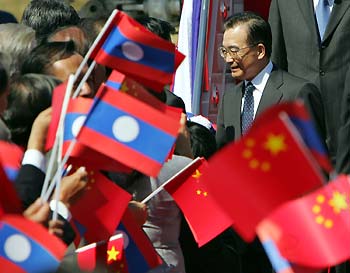 China's Premier Wen Jiabao is greeted at Vientiane Wattay international airport on the eve of the 10th Association of Southeast Asian Nations (ASEAN) Summit in Laos on November 28, 2004. [Reuters]

The Agreement on Trade in Goods and the Agreement on a Dispute Settlement Mechanism shows that China's ties with ASEAN have entered a new period of "comprehensive co-operation," Premier Wen Jiabao, who is attending the session, said.

ASEAN announced that the 10 members unanimously recognize China's full market economy status, and the two sides would remove tariffs by the end of the decade.

Wen yesterday attended the 10--1 summit (ASEAN plus China) as well as a 10--3 summit (ASEAN plus China, Japan and the Republic of Korea).

He said China plans to set up a special group to work with members of ASEAN to launch co-operative efforts in the South China Sea, part of a nine-point proposal raised by Wen at the Eighth China-ASEAN Summit. Wen put forward the proposals, ranging from high-level contacts to energy co-operation, during a speech saying that China and ASEAN should follow-up on a Declaration on the Conduct of Parties in the South China Sea.

"The Chinese side stands ready to have a special senior officials meeting with ASEAN and to set up a working group in a bid to launch co-operation in the South China Sea as soon as possible," Wen indicated.

"China is willing to positively explore with the countries concerned ways and means for joint development in the disputed waters in the South China Sea under the principle of 'shelving disputes while going in for joint development' and on the basis of mutual respect, equality and mutual benefit," he added.

Hoping to secure various projects with ASEAN, China will contribute an additional US$5 million to the China-ASEAN Co-operation Fund, Wen said.

In addition, the Chinese Government will set up a special Asia Co-operation Fund totalling US$15 million to support the participation of Chinese agencies in regional co-operation, especially ASEAN, he announced.

Wen said China will continue to support ASEAN's leading role in the region.

China's partnership with the 10-member ASEAN, dubbed as 10--1, started in 1991.

Wen said that China and ASEAN should hasten negotiations on trade in service and investment and proposed closer teamwork on customs, inspections and quarantine.

Wen also said ministerial dialogue mechanisms should be put in place on energy to stabilize energy supplies and ensure transport security.

In the field of non-traditional security including shipping, Wen said the two sides should increase their partnership.

"China is willing to accede at an early date to the Protocol to the Treaty on the Southeast Asia Nuclear Weapon-Free Zone," the premier said.

To intensify sub-regional collaboration, China yesterday signed a Memorandum of Understanding on the joint co-operation to push forward construction of an Information highway in the Greater Mekong Subregion with five Mekong Basin countries.

Closer cultural and youth partnerships are also part of Wen's proposal.

ASEAN groups include Brunei, Cambodia, Indonesia, Laos, Malaysia, Myanmar, Singapore, Thailand and the Philippines.

Weapons disposal urged

Chinese Government official yesterday urged Japan to destroy all chemical weapons abandoned in China during World War II.

Addressing a meeting of the Chemical Weapons Convention, Chinese Permanent Representative to the Organization for the Prohibition of Chemical Weapons (OPCW), Xue Hanqin, said the abandoned weapons have been posing a great threat to the environment and the life and property of the Chinese people.

A study carried out by China's Heilongjiang Academy of Social Sciences published in June this year concluded that Japanese troops abandoned over two million chemical weapons in a dozen Chinese cities and provinces at the end of World War II.

So far, the study said, some 2,000 Chinese have fallen victims to the weapons since the war ended in 1945.




Today's Top News
Top China News

Procedures for foreign investment simplified




Death toll climbs in coal mine disaster




Ukraine's president proposes new elections




Bush nominates Gutierrez to commerce




"Golden Week" Holiday may be canceled