Three-way dialogue goes win-win
By Sun Shangwu (China Daily)
Updated: 2004-11-30 01:11
Leaders of China, Japan and the Republic of Korea (ROK) vowed in a summit yesterday to enhance trilateral co-operation to promote stability and development in Northeast Asia.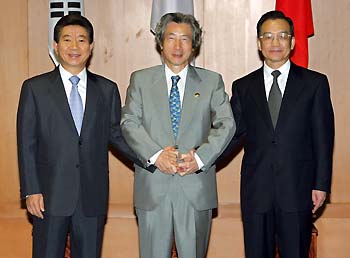 South Korea's President Roh Moo-hyun (L), Japan's Prime Minister Junichiro Koizumi (C) and China's Premier Wen Jiabao lock hands for a photo before holding a trilateral meeting at the10th Association of Southeast Asian Nations (ASEAN) Summit in Vientiane on November 29, 2004. [Reuters]

Premier Wen Jiabao said collaboration among the three nations should be conducted along with the development of the Association of Southeast Asian Nations (ASEAN).

Wen, Japanese Prime Minister Junichiro Koizumi and ROK President Roh Moo-hyun, released a joint action strategy after their meeting on the sidelines of ASEAN summit.

They also touched upon the nuclear issue on the Korean Peninsula.

China will continue to jointly strive with the international community to resume a new round of talks on the nuclear issue as soon as possible because it conforms to interests of all parties, said Wen.

Koizumi and Roh expressed their appreciation for China's efforts to peacefully resolve the nuclear issue and said they hope the six-party talks can be continued.

Three inconclusive rounds of such talks have been held so far to try to find a way to persuade the Democratic People's Republic of Korea (DPRK) to give up its nuclear weapons ambitions.

China, the ROK, the DPRK, Russia, Japan and the United States were all involved in the talks.

To promote trilateral co-operation, Wen said China, the Japanese, and South Koreans should make new steps in facilitating trade liberalization and push economic integration among them.

Exchanges of culture, personnel and media should be increased to promote mutual understanding, according to Wen.

The three countries should increase their dialogues on regional policy, said Wen, noting that regional co-operation has become a global trend and the co-operation of Asia, especially East Asia, is now in an important period.

The three-way meeting started in 1999.

Wen said the three countries must stick to the principles of achieving a "win-win" result from their collaboration.

He suggested some priority areas must be decided and that collaboration could be started in some easy areas, then expanded to other sectors.

Koizumi said the three countries should increase their partnership in investment, free trade, finance, culture and personnel, according to a Chinese Foreign Ministry spokesman.

Roh said the ROK hopes to co-operate with China and Japan in sectors such as energy, the economy, science and technology, said the spokesman.

Separate meetings

Besides the trilateral talks, Wen also held bilateral meetings separately with Roh, Thai Prime Minister Thaksin Shinawatra and Lao President Khamtay Siphandone.

In the meeting with Roh, he and Wen discussed the Korean Peninsula nuclear issue again.

Wen hopes the ROK will continue to adopt a conciliatory policy and improve relations between the North and the South.

Roh hopes that the parties show flexibility and resume the next round of six-party talks as soon as possible.




Today's Top News
Top China News

Divorce rises with changing marriage and love




Death toll rises to 63 in Shaanxi mine blast




ASEAN tariff-cut pact steps toward free trade




Three-way dialogue goes win-win




"Income gap" tops senior officials' concerns




Al Qaeda's Zawahri says will keep fighting US