Ukraine's president proposes new elections
(Agencies)
Updated: 2004-11-29 00:35
Outgoing Ukrainian President Leonid Kuchma, facing mass protests over a disputed presidential election, Monday called for a new poll to help end the crisis tearing the nation apart.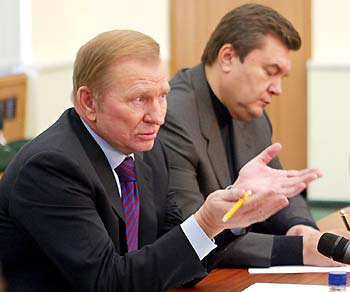 Ukrainian President Leonid Kuchma (L) delivers his speech as Prime Minister Viktor Yanukovich listens during a meeting with regional officials near Kiev, November 29, 2004. Outgoing President Kuchma said on Monday Ukraine's financial system could collapse within days "like a house of cards" and that neither he nor his government could be responsible. [Reuters]

"If we really want to preserve peace and consensus and build this just democratic society, of which we speak so much but have failed to carry out in a legal way, let us have new elections," Kuchma said in a statement.

Kuchma, in power for 10 scandal-tainted years and widely accused of mismanaging the economy, said he had no intention of running in a new poll.

He spoke as the Supreme Court sat to try to resolve the election stalemate, though a decision could take days.

Kuchma had earlier warned that the mass protests, paralysing public life, could make the financial system collapse "like a house of cards."

His finance minister said the banking system was strong enough to weather the chaos but the central bank warned the politicians that their feud was beginning to take its toll.

Legal experts said the Supreme Court was unlikely to be able to satisfy either side in the bitter dispute over whether Prime Minister Viktor Yanukovich won the Nov. 21 presidential election by fraud, as alleged by his opponent Viktor Yushchenko.

"Examining the case could take anywhere from a few hours to several days, depending on how many representatives each side puts forward and the nature of their statements," court official Liana Shlyaposhnikova said just before the hearing started.

The liberal Yushchenko, whose followers have been implicitly backed by the West in their attempts to overturn the poll result by peaceful displays of people power, wants his Moscow-backed rival's victory annulled and a new vote held on Dec. 12.

"Kuchma's statement is extremely positive," said Frank Gill, emerging market strategist at IDEAglobal in London. "It's an extraordinarily unexpected concession."

Yanukovich said he would agree to a new vote in two eastern regions -- Donetsk and Luhansk, both his strongholds -- if mass fraud were proven to have occurred.

Thousands of Yushchenko supporters, sporting his orange campaign colors, massed on the damp, chilly streets outside the court, chanting "Truth" and "Yushchenko."

About 100 people including judges in red robes -- their names kept secret until the last minute to guard against pressure -- lawyers and reporters squeezed into a small courtroom in central Kiev.

Modern Ukraine does not have a tradition of an independent judiciary but Supreme Court judges have in the past been prepared to rule against the authorities.

Initially the court refused to hear Yushchenko's case. But last Friday, it froze the election dispute by agreeing to examine it and, by barring official publication of the results, delayed Yanukovich's inauguration.

"There are so many options, so many nuances that implementing one of the court's rulings might prove extremely difficult," Mykola Melnyk of the Supreme Council of Justice, overseeing Ukraine's court system, told Reuters.

"A ruling could even complicate attempts to resolve the conflict."

Break Up Threatens

The crisis is tearing at the seams of Ukraine's fledgling democracy and casting a shadow over Russia's ties with the West.

Saturday, the parliament speaker said the country now effectively had three presidents -- the outgoing Kuchma, his protege Yanukovich and Yushchenko, who symbolically swore himself into office last week.

In an additional twist, Serhiy Tyhypko, who was both Yanukovich campaign manager and chairman of the central bank, quit both jobs Monday. He said he would focus on politics but would no longer play a direct part on Yanukovich's side.

While Russian President Vladimir Putin was quick last week to congratulate Yanukovich, several Western governments urged Ukraine not to declare him the winner pending investigations.

Polish President Aleksander Kwasniewski, an influential regional figure, said Yushchenko was likely to become next president. But he added a break-up was a real threat in Ukraine.

That fear was underscored Sunday, when a pro-Yanukovich region in the largely Russian-speaking east set a referendum for Dec. 5 on forming a republic within a federal Ukrainian state.





Today's Top News
Top World News

ASEAN tariff-cut pact steps toward free trade




Three-way dialogue goes win-win




"Income gap" tops senior officals' concerns




Al Qaeda's Zawahri says will keep fighting US




Death toll rises to 50 in Shaanxi mine blast




China questions dollar slide