Death toll climbs in coal mine disaster
By Ma Lie (China Daily)
Updated: 2004-11-29 23:59
Twenty-five miners were found dead early yesterday morning by recovery workers at the scene of a coal mine gas explosion that occurred on Sunday in Northwest China. Another 141 miners are still officially listed as trapped underground.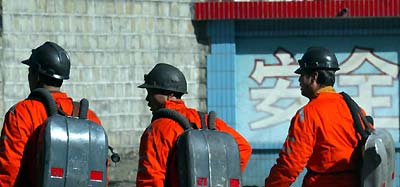 Rescuers set for a new search. [newsphoto]

"The focal point of the rescue work is to resume a ventilation system in the coal mine at present, while taking measures to guarantee the rescue teams' safety," said Zhao Tiechui, deputy director of National Safe Production Supervision and Administration Bureau at an Sunday night accident report meeting at the coal mine.

According to the team, the density of carbon monoxide was 0.5 per cent (0.1 per cent is enough to kill people) in the place where the gas blast occurred, and the team was stopped in the tunnel where the gas density reached 1.8 per cent.

The gas explosion took place in the Chenjiashan Coal Mine in Tongchuan, Shaanxi Province, early on Sunday morning when 293 coal miners were toiling underground, officials said.

After the accident, the first rescue team was sent underground at 7:38 am on Sunday, and then six other teams searched in turn for the missing miners. Later, 10 teams from other coal mines took part, officials said.

By early yesterday, 127 miners were out of the well, 45 were injured and sent to hospital; and 11 were in serious condition. Some 25 miners were killed by the gas blast and 141 remained trapped in the well, said Gong Deshun, deputy governor and head of the accident co-ordination effort.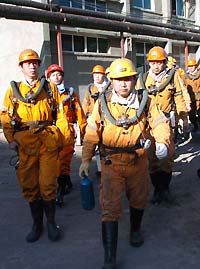 Rescuers set for a new search. [Xinhua]

At abut 4 pm yesterday, eight new ventilating systems were sent and installed to provide fresh air into the accident-hit areas, and the recovery teams continued their effort to look for the missing miners, Gong said.

Accident cause

The Chenjiashan Coal Mine is geologically complicated with coal, oil and gas contained together, which can easily cause fires and explosion. In 1993, the mine was considered as a colliery with high gas density and the coal in it was easy to burn, experts said.

According to experts, gas outburst in tunnels is believed to be a geological disaster. A great deal of harmful, suffocating gas can break out in a few seconds and reach a density of higher than 12 per cent against oxygen in the air, creating conditions for an explosion.

In April 2001, the Chenjiashan Coal Mine suffered a gas blast which killed 38 miners and the cause of the accident was considered that less attention paid to gas supervision and control.

Tongchuan is an important coal production base in Shaanxi.




Today's Top News
Top China News

ASEAN tariff-cut pact steps toward free trade




Three-way dialogue goes win-win




"Income gap" tops senior officals' concerns




Half Chinese not feel "close" with Japanese




Procedures for foreign investment simplified




Death toll climbs in coal mine disaster