China, Southeast Asia sign trade accord
(Agencies)
Updated: 2004-11-29 21:05
Southeast Asian nations and China signed an accord Monday to create the world's biggest free trade area by removing tariffs for their 2 billion people by decade's end ! a key step in their vision of a trade bloc to rival Europe and North America.

Leaders in the 10-member Association of Southeast Asian Nations also signed a pact to flesh out their agreement last year to create an ASEAN Community along the lines of a unified Europe by 2020. It aims to create a common market with common security goals.
The run-up to the ASEAN summit in the Laotian capital was clouded by concerns that Thailand's crackdown last month on a protest that left 85 Muslims dead could inflame regional militants, and over Myanmar's failure to deliver on pledges to go from military rule to democracy.
Some countries indicated they might call those two ASEAN members to task in what a break with the group's tradition of keeping out of domestic affairs. But both issues were kept off the table during the summit's ASEAN-only agenda Monday, Thai government spokesman Jakrapob Penkair said.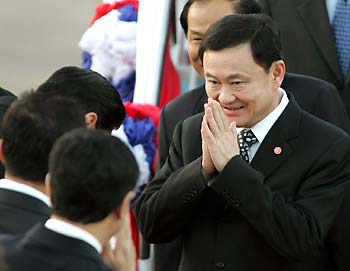 Thailand's Prime Minister Thaksin Shinawatra greets staff upon his arrival at Vientiane's Wattay international airport on the eve of the 10th Association of Southeast Asian Nations (ASEAN) Summit in Laos, on November 28, 2004. The ASEAN Summit goes from November 29-30 in the Laotian capital.[Reuters]

Thai Prime Minister Thaksin Shinawatra had threatened to walk out if the village crackdown was raised.

On the summit sidelines, South Korea and ASEAN member Singapore concluded negotiations on a two-way free trade agreement.

Chinese Premier Wen Jiabao signed the landmark trade accord with ASEAN leaders later Monday at a conference center built on a palm-fringed swamp in sleepy Vientiane ! the first such international event ever hosted by the isolated communist nation of Laos.

"It's a very good agreement," Chinese Commerce Minister Bo Xilai said afterward.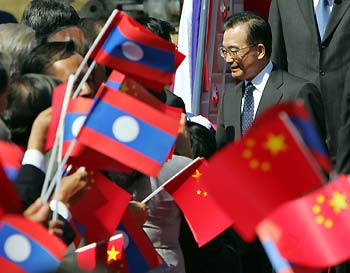 China's Premier Wen Jiabao is greeted at Vientiane Wattay international airport on the eve of the 10th Association of Southeast Asian Nations (ASEAN) Summit in Laos on November 28, 2004. [Reuters]

Laos had spruced up its tiny capital of only 133,000 people, which had no five-star hotel until one was built for the summit by a Malaysian company. Chickens still peck along brick-red dirt roads in parts of Vientiane.

Bamboo screens blocked eyesores through the city, and women were asked to wear long skirts rather than pants.

ASEAN also plans free trade areas with Japan and South Korea ! and was to sign a blueprint for economic cooperation with India during the two-day summit ending Tuesday. A free trade agreement with India is still many years away.

The ASEAN's agreements with China and India reflect the group's desire to latch on to two booming economies that are drawing foreign investment away from the region.

The annual ASEAN summit consists of several, closed-door meetings among leaders: The 10 Southeast Asian countries alone, and in various permutations with summit partners China, Japan, South Korea and India.

This year, Australia and New Zealand also received a one-time invitation to boost trade ties ! their first appearance at the summit in more than a quarter-century ! but Australia resisted ASEAN's calls to sign the group's nonaggression pact.

New Zealand Prime Minister Helen Clark was expected to join her Australian counterpart John Howard in signing an agreement Tuesday to start free trade talks with ASEAN. She noted that the combined economies of the two Oceania countries are roughly equivalent to ASEAN's.

"If ASEAN is looking to bulk up its economic weight as an economic counter to the emerging strength of China and India, then a relationship in trade terms with New Zealand and Australia makes the most sense," Clark said.

The ASEAN-China accord aims to remove all tariffs by 2010, and is part of a wider "plan of action" to cooperate in politics, security, military affairs, transportation, information technology and tourism.

It would build on two-way trade expected to surpass $100 billion this year. The accord also sets up arbitration of trade disputes.

The ASEAN members are Brunei, Cambodia, Indonesia, Laos, Malaysia, Myanmar, Philippines, Singapore, Thailand and Vietnam.





Today's Top News
Top China News

China, Southeast Asia sign trade accord




China questions dollar slide




Hope slim for 141 in Shaanxi mine, 25 dead




16 officials in court for accident cover-up




Lai Changxing's limousine auctioned off




Ukraine: Court debates validity of election