China, Asean to advance free trade
By Sun Shangwu (China Daily)
Updated: 2004-11-29 15:21
VIENTIANE, Laos: China and the Association of Southeast Asian Nations (ASEAN) are expected to make substantial progress in advancing the free trade area (FTA) at their summit to be held here today.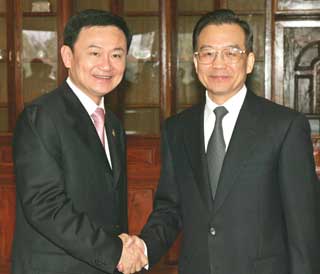 Thailand's Prime Minister Thaksin Shinawatra (L) and China's Premier Wen Jiabao pose for a photo before holding bilateral talks prior to the opening ceremonies of the 10th Association of Southeast Asian Nations (ASEAN) Summit in Vientiane on November 29, 2004. [Reuters]

The two sides will sign a series of agreements, the most prominent of which are the two known as the Agreement on Trade in Goods of the Framework Agreement on Comprehensive Economic Co-operation between ASEAN and China, and the Agreement on Dispute Settlement Mechanism.

Chinese Premier Wen Jiabao arrived in Vientiane yesterday. He is in Laos Sunday through Tuesday for a group summit between China and ASEAN, a three-way meeting between China, Japan and the Republic of Korea as well as an official visit to Laos. Wen will witness the signing of all agreements.

The signing of the two agreements shows that co-operation between China and ASEAN has been developed from the framework level to more substantial content, said Zhai Kun, a researcher on Southeast Asian affairs with the China Institute of Contemporary International Relations.

The agreements have paved the way for building up a China-ASEAN FTA, and are expected to create a win-win situation for economic and trade relations, said Zhai.

It will have positive and far-reaching influence on the regional economic integration in Asia, he said.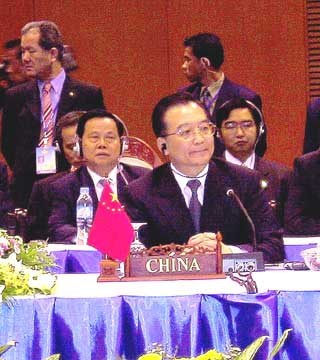 Chinese Premier Wen Jiabao speaks during a trilateral meeting with Japan's Prime Minister Junichiro Koizumi and South Korea's President Roh Moo-hyun on the sidelines of the 10th Association of Southeast Asian Nations (ASEAN) Summit in Vientiane, Laos, November 29, 2004. [newsphoto]

Insiders say the two sides have decided to start reducing tariffs, which should be down to zero for most products by 2010.

Leaders from China and the 10-member ASEAN signed the Framework Agreement on Comprehensive Economic Co-operation in November 2002, expressing their willingness to set up an FTA. They plan to complete it within 10 years.

The establishment of the free trade area will boost the development of an economic region with 1.7 billion consumers, about US$1.8 trillion in GDP and US$1.2 trillion in trade volume. The FTA will allow all members to enjoy more favourable treatment in trade and investment than the World Trade Organization can offer.

"To push regional integration and develop FTAs has become a world trend, and countries in East Asia should follow," said Vice-Foreign Minister Wu Dawei.

He told a news briefing at the ASEAN summit last week in Beijing that both China and ASEAN are very positive in pushing regional integration.

Regional co-operation between China and ASEAN is good for China, its neighbours and the world, said Su Hao, a professor at the Beijing-based Foreign Affairs University.

Economic co-operation is an important part of the 10+3 partnership of ASEAN plus China, Japan and the Republic of Korea, said Su.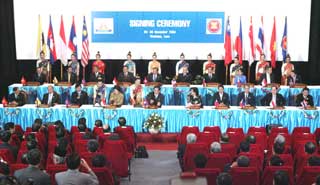 Leaders of member countries gather for the signing ceremony on the Vientiane Action Programme during the 10th Association of Southeast Asian Nations (ASEAN) Summit in Vientiane, Laos on November 29, 2004. The ASEAN Summit is being held from November 29-30 in the Lao capital. [Reuters]

ASEAN groups Brunei, Indonesia, Malaysia, Myanmar, Singapore, Thailand, the Philippines, Viet Nam, Laos and Cambodia.

The 10+3 summit started in December 1997 and Chinese leaders have attended all summit meetings.

Forty-six dialogue mechanisms at different levels have so far been established in 16 fields, including 12 ministerial-level co-operative mechanisms, according to the Chinese Foreign Ministry.

Professor Su told China Daily that China had enjoyed many advantages in setting up FTAs with ASEAN members.

The performance of different industrial sectors in China's economies are varied with some quite advanced and others lagging.

Such an economic structure allows China to co-operate with all ASEAN members with their economic development at different stages. This means they share a lot of common ground, ranging from the advanced financial sector to the agricultural sector.

While facilitating trade, it is inevitable that countries involved will encounter a certain amount of friction, and countries and governments are on occasion required to intervene, Su said.

"The establishment of the mechanism for settling disputes is very necessary and significant," he said.

Comprehensive co-operation

Trade between China and the Southeast Asian block is developing very quickly.

Statistics from the Ministry of Commerce show that since 1990, ASEAN has been the fifth largest trade partner of China for 11 consecutive years.

Trade volumes in the first 10 months of this year hit US$84.61 billion, up 35.2 per cent over the same period of last year.

Officials and experts, including Chinese Vice-Premier Wu Yi, predicted that total bilateral trade volume is expected to exceed US$100 billion this year.

China has a trade deficit with the 10-member ASEAN, but hopes to see trade balance out as the region grows, said Vice-Foreign Minister Wu Dawei.

"For this temporary trade imbalance China has taken a very realistic stance," Wu said. "I think in the long run, in our trading ties and economic co-operation we will all benefit."

During the summit, China and ASEAN are also going to sign the ASEAN-China Plan of Action to Implement the Joint Declaration on Strategic Partnership for Peace and Prosperity.

The Memorandum of Understanding between the Governments of the Member Countries of ASEAN and China on Transport Co-operation has already been signed.

Zhang Chunxian, China's communications minister, who attended the Third ASEAN-China Transport Minister's Meeting in Phnom Penn last week, said ASEAN-China transport co-operation is becoming more consolidated with each step forward and has become an essential part of building up a partnership of mutual trust and practical co-operation between the two sides.

Zhang said the memorandum will become a legally based medium-to-long term partnership between the two sides.

He put forward proposals to improve transport co-operation.

"A 'result-and action-oriented' principle should be observed and more attention focused on promoting specific projects while harmonizing the development of different modes of transport to deliver more benefits to the people," Zhang said.

China and ASEAN has made progress in advancing partnership in the transport sector, for example, the construction of the Laos section of the Kunming-Bangkok Highway; the navigation channel improvement project on the upper Mekong River; the feasibility study of the missing link of the Trans-Asian Railway inside Cambodia; and the fact that direct flights are now in service between major cities in China and ASEAN countries.

China's relation with ASEAN has improved in recent years.

Premier Wen attended the last summit with ASEAN leaders in Bali, Indonesia a year ago.

At that time, China had developed a strategic partnership geared towards peace and prosperity with ASEAN, and was the only major power outside the ASEAN to join the Treaty of Amity and Co-operation (TAC) in Southeast Asia.

The partnership shows that the political relationship between the two sides has reached the highest level, said Zhai, adding that the TAC is a guarantee for dealing with security issues peacefully.

When the FTA process is initiated, China-ASEAN relations will have been developing in a comprehensive way, he added.





Today's Top News
Top China News

China questions dollar slide, rejects pressure on yuan




China, Asean to advance free trade




Hope slim for 141 in Shaanxi mine, 25 dead




16 officials in court for accident cover-up




Lai Changxing's limousine auctioned off




Ukraine opposition urges PM's ouster