Hope slim for 141 in Shaanxi mine, 25 dead
(Agencies)
Updated: 2004-11-29 15:13
Toxic gas hampered the search for 141 trapped coal miners Monday following an explosion in central China, and an official said their chances of survival were "extremely slight." At least 25 people were confirmed dead.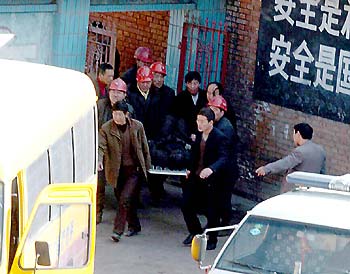 A rescued miner is moved to a medical vehicle at the mine gate. [newsphoto]

High levels of carbon monoxide kept rescuers from reaching the site of Sunday's disaster in Shaanxi province, the Xinhua News Agency said.

An official at the Shaanxi coal mine safety bureau said hope was fading fast for the trapped miners.

"The rescue effort has been extremely difficult due to large concentrations of carbon monoxide," said the official, who would give only his last name, Chen. "From my own experience the odds that the 141 still underground remain alive are extremely slight."

Some 127 workers managed to escape the mine, said the State Bureau of Production Safety. Some 45 were hospitalized, 11 with serious injuries.

The blast rocked Chenjiashan coal mine at 7:20 a.m. on Sunday, when 293 workers were underground. The explosion was centered around coal pits five miles from the mine entrance.

Most of the miners who escaped were working close to the entrance, and many suffered from carbon monoxide poisoning. High levels of carbon monoxide was preventing rescuers from reaching parts of the tunnels.

Witnesses said they saw "huge amounts of thick smoke pouring from the mine's ventilation vents," hampering rescue efforts, according to the Website of the People's Daily.

Staff at Chenjiashan said communications with the trapped miners were cut off, the site said.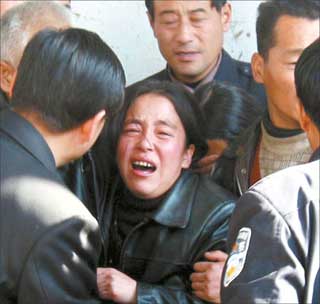 A miner's wife is offered help by local officials and police outside the Chenjiashan Coal Mine in Shaanxi Province, where 141 miners were still trapped underground by a gas explosion yesterday. [newsphoto]
President Hu Jintao urged rescuers to employ "all effective measures" to save the trapped workers, China Central Television said.
Premier Wen Jiabao, who arrived at the ASEAN summit in Laos on Sunday, said he was "extremely upset" over the accident.
He said the cause of the explosion would be thoroughly investigated and the government would continue to push for safer working conditions in the mines.
Chenjiashan is capable of producing 1.3 million tons of coal a year.
The government has vowed to improve conditions and frequently orders mass shutdowns and safety checks after a fatal mine accident.
Chinese officials have suggested that a countrywide energy shortage may be pressuring the mining industry to raise coal production.
The worst mining accident in four years occurred last month, when a massive explosion in the Daping Mine in central Henan province left 148 people dead.
It was sparked after mine operators failed to realize that extending the mine's shaft would greatly increase its gas level.
Today's Top News
Top China News

Wen: No RMB change while speculation is rife




Hope slim for 141 in Shaanxi mine, 25 dead




16 officials in court for accident cover-up




Lai Changxing's limousine auctioned off




Ukraine opposition urges PM's ouster




Chirac rival Sarkozy gets French party boost