Stem cell therapy brings paralyzed to feet
(Agencies)
Updated: 2004-11-29 09:16
A South Korean woman paralyzed for 20 years is walking again after scientists say they repaired her damaged spine using stem cells derived from umbilical cord blood.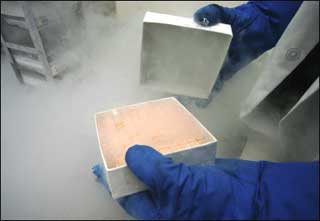 US researcher holds a box containing vials of human embryonic stem cell cultures. A South Korean woman paralyzed for 20 years is walking again after scientists say they repaired her damaged spine using stem cells derived from umbilical cord blood. [AFP/file]

Hwang Mi-Soon, 37, had been bedridden since damaging her back in an accident two decades ago.

Last week her eyes glistened with tears as she walked again with the help of a walking frame at a press conference where South Korea researchers went public for the first time with the results of their stem-cell therapy.

They said it was the world's first published case in which a patient with spinal cord injuries had been successfully treated with stem cells from umbilical cord blood.

Though they cautioned that more research was needed and verification from international experts was required, the South Korean researchers said Hwang's case could signal a leap forward in the treatment of spinal cord injuries.

The use of stem cells from cord blood could also point to a way to side-step the ethical dispute over the controversial use of embryos in embryonic stem-cell research.

"We have glimpsed at a silver lining over the horizon," said Song Chang-Hoon, a member of the research team and a professor at Chosun University's medical school in the southwestern city of Kwangju.

"We were all surprised at the fast improvements in the patient."

Under TV lights and flashing cameras, Hwang stood up from her wheelchair and shuffled forward and back a few paces with the help of the frame at the press conference here on Thursday.

"This is already a miracle for me," she said. "I never dreamed of getting to my feet again."

Medical research has shown stem cells can develop into replacement cells for damaged organs or body parts. Unlocking that potential could see cures for diseases that are at present incurable, or even see the body generate new organs to replace damaged or failing ones.

So-called "multipotent" stem cells -- those found in cord blood -- are capable of forming a limited number of specialised cell types, unlike the more versatile "undifferentiated" cells that are derived from embroyos.

However, these stem cells isolated from umbilical cord blood have emerged as an ethical and safe alternative to embryonic stem cells.

Clinical trials with embryonic stem cells are believed to be years away because of the risks and ethical problems involved in the production of embryos -- regarded as living humans by some people -- for scientific use.

In contrast, there is no ethical dimension when stem cells from umbilical cord blood are obtained, according to researchers.

Additionally, umbilical cord blood stem cells trigger little immune response in the recipient as embryonic stem cells have a tendency to form tumors when injected into animals or human beings.

For the therapy, multipotent stem cells were isolated from umbilical cord blood, which had been frozen immediately after the birth of a baby and cultured for a period of time.

Then these cells were directly injected to the damaged part of the spinal cord.

"Technical difficulties exist in isolating stem cells from frozen umbilical cord blood, finding cells with genes matching those of the recipient and selecting the right place of the body to deliver the cells," said Han Hoon, president of Histostem, a government-backed umbilical cord blood bank in Seoul.

Han teamed up with Song and other experts for the experiment.

They say that more experiments are required to verify the outcome of the landmark therapy.

"It is just one case and we need more experiments, more data," said Oh Il-Hoon, another researcher.

"I believe experts in other countries have been conducting similar experiments and accumulating data before making the results public."





Today's Top News
Top World News

Wen: No RMB change while speculation is ripe




25 killed, 141 still trapped in Shaanxi mine




16 officials in court for accident cover-up




Adjustment for fiscal policy discussed




Lai Changxing's limousine auctioned off




Goal: Clean drinking water for all by 2020