Strong quake hits Hokkaido, 11 hurt
(Agencies)
Updated: 2004-11-29 09:01
A strong earthquake with a preliminary magnitude of 7.1 hit a wide area of Japan's northernmost main island of Hokkaido early on Monday, the Japan Meteorological Agency said.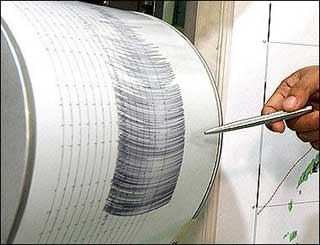 Earthquake recorded on a seismograph. A powerful earthquake measuring 7.1 on the Richter scale rocked the northern Japanese island of Hokkaid, injuring 13 people, the Meteorological Agency and police said. [AFP/file]

Public broadcaster NHK said at least 11 people were injured but there were no reports of widespread casualties or serious damage from the quake, which struck at 3:32 a.m. (1:32 p.m. EST).

"This is considered a major earthquake. It has the potential to cause damage and casualties," said U.S. Geological Survey spokesman John Bellini.

But he said because the quake hit a relatively sparsely populated area not a lot of damage would be expected.

On Oct. 23, a 6.8 magnitude quake hit the Niigata region, 150 miles north of Tokyo, killing at least 40 people.

In Hokkaido, one tsunami wave 10 cm (4 inches) high hit around 4 a.m. the meteorological agency said. About 13,000 households were advised to evacuate due to fears of a further tsunami, Kyodo news agency said.

Television showed office equipment shaking at an NHK bureau in the area, as well as convenience stores with goods spilled onto the floor.

Masahiro Yamamoto, a meteorological agency official, told a news conference the area has been hit by earthquakes of magnitude 6.5 or stronger every 10 years or so.

"We believe there is no unusual seismic activity," he said, adding that minor aftershocks had hit the area and there would likely be more.

The focus of the earthquake was 30 miles, revised from an earlier figure of 31 miles, under the surface of the Pacific Ocean off southeastern Hokkaido, about 497 miles north of Tokyo.

Trains were halted in the eastern part of the island and more than 600 homes suffered power outages, NHK said. But power began to be restored within about an hour.

Masaaki Ohta, an official at the Rausu town office on the eastern coast of Hokkaido, told NHK: "There was a strong jolt from side to side but nothing fell off the shelves."

The magnitude was measured according to a Japanese scale which resembles the open-ended Richter scale.

Japan is one of the world's most seismically active areas, accounting for about 20 percent of the world's earthquakes of magnitude six or greater.

Memories are still vivid of the earthquake in the western city of Kobe which killed more than 6,400 people in 1995, and which measured 7.2 on the Richter scale. The last quake of 8.0 or higher in Japan was in 1994.





Today's Top News
Top World News

At least 25 killed, 141 still trapped in Shaanxi coal mine




Wen: No RMB change while speculation is ripe




16 officials in court for accident cover-up




Adjustment for fiscal policy discussed




New regulations on lab safety kick off




Lai Changxing's limousine auctioned off