Al-Zarqawi's group claims Mosul slaughter
(Agencies)
Updated: 2004-11-29 08:50
Iraq's most feared terror group claimed responsibility Sunday for slaughtering members of the Iraqi security forces in Mosul, where dozens of bodies have been found. The claim raises fears the terror group has expanded to the north after the loss of its purported base in Fallujah.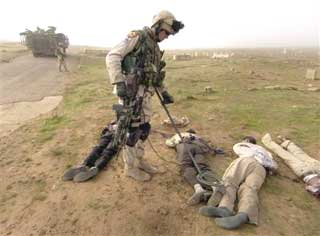 A U.S. Army soldier checks for possible booby-traps and explosives after the bodies of four murdered men were found in a cemetery in Mosul, Iraq, Sunday, Nov. 28, 2004. Ten bodies were recovered Sunday in Mosul, where at least 50 people have been murdered in the past 10 days. Most of the victims are believed to have been supporters of Iraq's interim government or members of its fledgeling security forces. [AP]

Meanwhile, insurgents attacked U.S. and Iraqi targets in Baghdad and in Sunni Arab areas. Iraq's deputy prime minister, Barham Saleh, said sticking to the Jan. 30 election timetable would be a challenge, but delaying it would bolster the insurgents' cause.

Two U.S. soldiers were injured in a Baghdad attack, and another American soldier died in a traffic accident north of the capital, the military said.

U.S. and Iraqi forces killed 17 suspected insurgents in raids south of the capital Sunday, Iraqi police said. Operations there included a dawn speedboat assault by U.S. Marines and British and Iraqi troops on suspected insurgent hideouts along the Euphrates River, British media reported.

A statement posted on an Islamist Web site in the name of al-Qaida in Iraq, led by Jordanian terror mastermind Abu Musab al-Zarqawi, claimed responsibility for killing 17 members of Iraq's security forces and a Kurdish militiaman in Mosul, where insurgents rose up this month in support of guerrillas facing a U.S.-led assault in Fallujah.

The claim could not be independently verified but the style of writing appeared similar to other statements by al-Zarqawi's group, which is responsible for numerous car bombings and beheadings of foreign hostages in Iraq.

The United States has offered a $25 million reward for al-Zarqawi's capture ¡ª the same amount it is offering for Osama bin Laden.

At least 50 people have been killed in Mosul in the past 10 days. Most of the victims are believed to have been supporters of Iraq's interim government or members of its fledgling security forces.

Separately, al-Zarqawi's group claimed it detonated a car bomb near a U.S. military convoy in the Hamam al-Alil area, near Mosul. It said the blast destroyed an armored vehicle and damaged another.

Although the claims were not verifiable, they raised fears that al-Zarqawi's organization had spread to Mosul, Iraq's third-largest city, 225 miles north of Baghdad. At least 43 suspected insurgents have been arrested as part of an ongoing operation to re-establish control of Mosul, a military statement said.

Al-Zarqawi's group, formerly known as Tawhid and Jihad, was believed to have been headquartered in Fallujah, the Sunni Arab insurgent bastion 40 miles west of Baghdad, before U.S. and Iraqi forces overran the city this month.

Al-Zarqawi and the city's two major Iraqi insurgent leaders, Sheik Abdullah al-Janabi and Omar Hadid, apparently escaped the onslaught and remain at large. Before the assault, U.S. intelligence officers speculated that al-Zarqawi would try to relocate to Mosul if he lost his base in Fallujah.

U.S. and Iraqi officials launched the offensive against Fallujah in hopes of pacifying Sunni areas north and west of the capital so elections could be held there Jan. 30. Iraqis will select a national assembly in the first vote since Saddam Hussein's regime collapsed in April 2003.

However, Sunni clerics have called for a boycott of the election to protest the Fallujah assault and the continued U.S. military presence. Sunni politicians have called for postponing the ballot for six months, although the proposal has been rejected by the government and influential Shiite clerical leadership.

In Cairo, Egypt, the head of the Arab League, Amr Moussa, said Arab governments wanted to see the Iraqi leadership take steps toward national reconciliation before the January balloting "because it is important to have a successful election." Most Arab nations have Sunni majorities.

In London, Saleh, said delaying the election would have "serious ramifications to the political process" and would bolster the insurgents' cause.

"Sticking to that timetable will be difficult, will be a serious challenge," he told the British Broadcasting Corp. "But delaying elections will be much more difficult because it will have serious ramifications to the political process, to the issue of legitimacy, and surely all of us do not want to give the terrorists the slightest of technical wins in that situation."

Elsewhere, a car bomb killed six people and injured five others in Samarra, 60 miles north of Baghdad. The blast occurred as a minibus drove past a school, police Maj. Qahtan Mohammed said. All the casualties were passengers in the minibus, he said.

U.S. and Iraqi troops regained control of Samarra from insurgents during military operations in September but the city remains uneasy.

The two U.S. soldiers were injured early Sunday when a car bomb exploded next to their convoy on the road leading to Baghdad's airport, a military statement said. The bomb damaged one vehicle, the military said, and two soldiers were taken to a military hospital.

The interim government's Youth Ministry reported that its general director, Ahmed Faiq, and his bodyguard were injured in the attack. The highway leading from downtown to the international airport is considered one of the most dangerous stretches of road in Iraq.

Seventeen suspected insurgents were killed in clashes with U.S., British and Iraqi forces in Latifiyah and Mahmoudiya, where multinational forces launched an offensive last week, Iraqi police spokesman Capt. Hadi Hatef said.

Iraqi police arrested 11 suspected rebels in Musayyib, about 50 miles southwest of Baghdad, Hatef said. Gunmen opened fire on a police station and a National Guard checkpoint in Jabella south of Baghdad, injuring two policemen and two guardsmen, Hatef said.

The speedboat assault included Marines, Britain's Black Watch regiment and Iraqi commandos and was directed at an area from which insurgents have been rocketing a British base, British media reports said.

Meanwhile, five Polish soldiers were injured Sunday in a car accident in central Iraq. The mishap occurred about six miles northeast of Hillah and did not involve hostile fire, the Polish-led international force in central Iraq said.




Today's Top News
Top World News

At least 25 killed, 141 still trapped in Shaanxi coal mine




Wen: No RMB change while speculation is ripe




16 officials in court for accident cover-up




Adjustment for fiscal policy discussed




New regulations on lab safety kick off




Lai Changxing's limousine auctioned off