Wen: No RMB change while speculation is rife
(China Daily)
Updated: 2004-11-29 08:44
China will not reform the exchange rate of the renminbi (RMB) while hot speculations are piled on the Chinese currency, said Premier Wen Jiabao in Vientiane Sunday.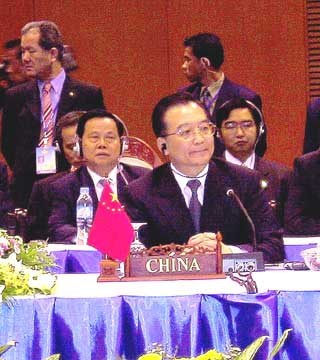 Chinese Premier Wen Jiabao speaks during a trilateral meeting with Japan's Prime Minister Junichiro Koizumi and South Korea's President Roh Moo-hyun on the sidelines of the 10th Association of Southeast Asian Nations (ASEAN) Summit in Vientiane, Laos, November 29, 2004. [newsphoto]

Chinese monetary policy experts have estimated that up to US$30 billion of so-called "hot money" has thronged to China¡¯s inland cities and Hong Kong, buying Chinese RMB yuan, in its gamble that China¡¯s central bank will in the coming months raise the price of its currency.

The Chinese Government is taking four factors into consideration when dealing with reforms to the RMB, Wen told reporters after meeting with leaders attending the ongoing meeting of Association of Southeast Asian Nations (ASEAN).

The first is that any changes must meet certain conditions, and the most important is a stable macro-economic environment, a sound market mechanism and a healthy financial system.

The second is that there must be an appropriate plan to keep the RMB stable at a "reasonable and balanced" level, said Wen, adding that the flexibility of RMB must be increased.

The third factor relates to the timing of any policy."To be honest, the more speculations are made in society (about RMB), the less chance we will take the measure (to change RMB)," said Wen.

The last is that China will take into consideration the influence of RMB reform on China's economy as well as the economies in the region and the world.

"China is a responsible country. In the financial crisis in 1997, we kept the stability of the RMB and made due contributions," said Wen, adding China will not only be responsible for benefits to the Chinese people, but also for the whole world.

Wen meets ASEAN leaders

Wen, who arrived in Vientiane on Sunday, also met leaders of Laos, Indonesia, Singapore and Malaysia.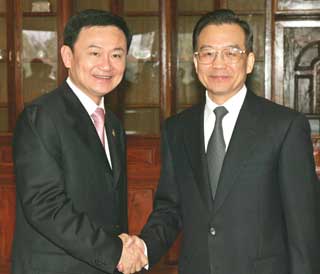 Thailand's Prime Minister Thaksin Shinawatra (L) and China's Premier Wen Jiabao pose for a photo before holding bilateral talks prior to the opening ceremonies of the 10th Association of Southeast Asian Nations (ASEAN) Summit in Vientiane on November 29, 2004. [Reuters]

Premier Wen Jiabao and his Laos counterpart Bounyang Vorachit witnessed the signing of five agreements as part of an official visit.

The two countries agreed to work together on infrastructure and economic projects.

The ASEAN leaders are all in Laos to attend Monday's summit of the association as well as the group's meeting with China, Japan, the Republic of Korea, Australia, New Zealand and India.

With the signings Sunday, the China-Laos partnership moved one step forward. The agreements include deals on economic and technological co-operation as well as four exchanges of letters on helping Laos build roads, survey mineral resources, draft plans for comprehensive development in the north and build power projects.

Wen put forward four-point proposals for advancing bilateral ties, including the increase of high-level contacts between the two countries.

Describing Laos as "good neighbour, good friend, good partner and good comrade," Wen suggested that Laos should combine China's economic and technical assistance with its self-developing ability.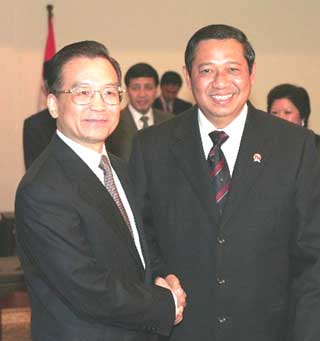 Chinese Premier Wen Jiabao (left) shakes hands with Indonesian President Susilo Bambang Yudhoyono in Vientiane November 28, 2004. They are in the Laos for an ASEAN meeting. Wen told Susilo that China is willing to increase co-operation. The two countries have reached the consensus to build a strategic partnership. [Xinhua]

"This should become the new form and way for bilateral co-operation," said Wen.

Bounyang held out his hope that the two sides could strengthen co-operation in agriculture, science and technology, mineral resources, investment as well as infrastructure such as hydropower and telecommunications.

Premier Wen also met yesterday with Indonesian President Susilo Bambang Yudhoyono, Singapore Prime Minister Lee Hsien Loong and Malaysian Prime Minister Abdullah Ahmad Badawi.

He told Indonesia's president that China is willing to increase co-operation. The two countries have reached the consensus to build a strategic partnership.

Wen said that the two countries should make efforts to expand trade to US$20 billion.

When meeting with Lee Hsien Loong, Wen said that Singapore's adherence to the one-China policy and its opposition to "Taiwan independence" has laid a stronger foundation for the advancement of bilateral relations.

Lee said that China and ASEAN are moving in the right direction to build a free trade area.

In his talks with Badawi, the two leaders touched on the topic of the South China Sea. Wen said that China is willing to push aside disputes and seek joint development of the region.




Today's Top News
Top China News

Wen: No RMB change while speculation is rife




25 killed, 141 still trapped in Shaanxi mine




16 officials in court for accident cover-up




Lai Changxing's limousine auctioned off




Ukraine opposition urges PM's ouster




Chirac rival Sarkozy gets French party boost