Hooters with the scantily-clad hits Shanghai
(Shanghai Star)
Updated: 2004-11-29 08:41
The owl may be the logo found on the sign outside Hooters, which opened recently in the crowded Shanghai City Centre, but the US restaurant chain's true trademark found inside - is its scantily-clad waitresses.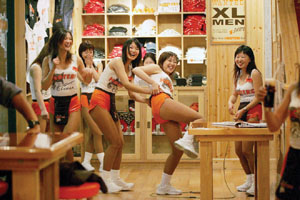 Scantily-clad waitresses in clingy shirts and orange high-cut shorts pose for a group photo. [Shanghai Star]

The first Hooters outlet in China opened last month, offering customers its signature combination of cold beer, chicken wings and waitress with clingy shirts and orange high-cut shorts.

The atmosphere also includes jukebox music from the 1950s and 1960s, sports on the television screens, and waitresses who speak fluent English.

"The restaurant is not different from any other Hooters in the world. It is the first one in China, but so far it looks like a great fit," said Cameron Jiang, director of operations for the new restaurant.

While Hooters serves authentic American food, including big burgers, salad and chicken wings in big dishes, most customers come not because of an empty stomach, but to relax while chatting with a skimpily dressed waitress.

"If you do not have a reservation, you will not find an empty seat until 10," Jiang said.

The new restaurant, with its crowd of customers, dwarfs the bars and restaurants in the neighbouring area. They may offer the same delicious dishes, but cannot provide the sexy waitresses.

As diners eat, waitresses wander around the room, stopping to chat if they have no beer glasses to fill. The women also occasionally break into song.

"I feel very good here. It is a good place for drinking beers, chatting with friends and watching the waitresses," said recent patron Dubas Frederick.

One thing that makes Hooters different from most other restaurants in Shanghai is that the waitresses can chat with customers without being scolded by a manager. That is why the job is so popular among the young women. As they earn pocket money, they can practice English and other languages.

"I like the job here. It provides me a chance to practice my English and learn how to communicate with others," said Feng Jie, a waitress who started working at Hooters several day earlier.

Feng is a senior at Shanghai University of Engineering Science. Her work at Hooters - serving food and chatting with customers in English - seems to have little to do with her major, mechanics.

Most of the waitresses in the new Hooters are local girls, more than 90 per cent of them university students. Although tradition suggests that young Chinese women be modest, no signs of embarrassment or shyness can be read on the waitresses' faces.

"We know some people will question what we are wearing. But in Shanghai you will see more girls wearing less on the street, " Feng said.

Out of more than 1,000 girls in Shanghai who applied for the position, only 80 were selected.

"The most important thing is their personality," said Jiang. "We are looking for the open-minded girls."

With the help of four Hooters waitresses from the US, the 80 Shanghai workers received an intense two-week training that covered everything from applying make-up to memorizing the menu.

The girls seem to like the part-time job, despite the 8 yuan (US $1) an hour pay, because - unlike most restaurants in China - they can accept tips from customers. The waitresses said another reason they are happy at Hooters is that their work schedules are very flexible.

The restaurant has also announced it will provide an opportunity for the waitresses to receive further education - including scholarships - in the US.




| | |
| --- | --- |
| | |
| Actress Julia Roberts gives birth to twins | |

| | |
| --- | --- |
| | |
| Dancesport competition in Shenzhen | |

| | |
| --- | --- |
| | |
| Gwand Fashion Festival | |
Today's Top News
Top Life News

Wen: No RMB change while speculation is ripe




25 killed, 141 still trapped in Shaanxi mine




16 officials in court for accident cover-up




Adjustment for fiscal policy discussed




Lai Changxing's limousine auctioned off




Chirac rival Sarkozy gets French party boost