Lai Changxing's limousine auctioned off
(China Daily)
Updated: 2004-11-29 01:23
With the sound of an auctioneer's hammer, a luxurious bulletproof Mercedes Benz, once owned by China's most notorious smuggler, was sold for 1.25 million yuan (US$151,000) Sunday.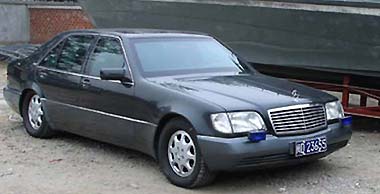 A file photo shows Lai's bulletproof Mercedes Benz.

The No 512 bidder who suddenly became the centre of the limelight would like to remain anonymous.

The armed Benz that once belonged to Lai Changxing is one of 18 recovered smuggled cars that were auctioned yesterday, the last day of a 19-day exhibition at the Military Museum of the Chinese People's revolution in Beijing.

Lai was the mastermind of a criminal ring who was charged with being responsible for smuggling US$10 billion worth of goods in collaboration with corrupt officials, the biggest smuggling operation uncovered in China since 1949. He remains on the run.

Authorities put Lai's car on the auction block after it failed to sell at an auction for 4.5 million yuan (US$544,000) two years ago in Xiamen, East China's Fujian Province.

The bidding started at 106 million yuan (US$128,000) yesterday, less than a tenth of the original price Lai reportedly spent when he bought the car -- HK$12 million (US$1.5 million).

Cao Zhichun, 36, who came all the way from East China's Anhui Province, said he felt a little bit regretful after failing to win in the bidding for the special car.

"The ideal price for us would have been around 120 million yuan (US$145,000)," he said, adding that the vehicle -- manufactured in Germany in 1997-- was too old for a higher price. He said he came to purchase the car for his boss in Taiwan.

Cao was among the few whose target was the big Benze. The majority of the 300-odd bidders mainly focused on the Nissan cars up for bid.

Four of the 18 cars are not allowed to be driven in major cities like Beijing, Shanghai and Guangzhou, since they fail to achieve necessary environmental standards.

However, that was not an obstacle for the bidders who came from all parts of the country, including Sichuan, Guangdong, Shandong and Henan provinces.

Except for two, all the cars found new owners yesterday.

Zhang Guangzhi, a senior General Administration of Customs official, said the auction is an important part of the just-concluded exhibition on national anti-smuggling achievements.

He said it showed the country's confidence and determination in cracking down on smuggling.

China's nationwide campaign has yielded satisfactory results since it was launched in 1998.

The exhibition honours customs' victories and was the largest of its kind in China.

It has had more than 210,000 visitors since November 11 through last Friday, setting a record of 15,000 visitors on a single day.

The confiscated goods includes cars, drugs, animal pelts, pirated compact discs and pornography seized since China declared war on smuggling.

"It is very shocking to see the confiscated goods and the smugglers deserve severe punishment," said Du Hongwei, an exhibit visitor.

He said it was interesting to see who is able to afford the most expensive vehicle intimately linked with a scandal.

"Even for those who don't have much interest in cars, an auction can still be an interesting experience because of the thrilling atmosphere created," he added.




Today's Top News
Top China News

At least 25 killed, 141 still trapped in Shaanxi coal mine




Wen: No RMB change while speculation is ripe




16 officials in court for accident cover-up




Adjustment for fiscal policy discussed




New regulations on lab safety kick off




Lai Changxing's limousine auctioned off