Mine blast traps 166, alerts nation
By Ma Lie & Lu Hongyan (China Daily)
Updated: 2004-11-29 01:11
A coal mine gas explosion yesterday morning in Tongchuan, Shaanxi Province in Northwest China, killed five coal miners and left another 166 missing.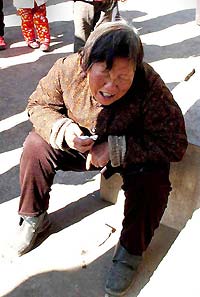 A miner's relative cries after hearing the news. [newsphoto]

The blast occurred in the Chenjiashan Coal Mine of the Tongchuan Mineral Bureau at about 7:10 am on Sunday, when 293 miners were toiling underground, according to Liu Yuntao, director of Shaanxi Coal Mines Safety and Supervision Bureau.

Those above ground saw dense smoke pouring out of a mine vent about 7:30 when communication underground was cut off, the director said.

Shortly after the accident occurred, President Hu Jintao gave important instructions urging the local government and departments concerned to "take substantial steps and spare no efforts" to save the trapped miners.

Premier Wen Jiabao and Vice-Premier Huang Ju also ordered rescuers to try every means to minimize the number of casualties.

Officials of Shaanxi Province, Tongchuan and the mineral bureau rushed to the mine to organize rescue activity.

"By 5 pm on Sunday, 127 out of the 293 workers working in the pit were brought up. Five were dead, and 166 were missing in the confused situation," the director said.

The team underground was hindered by dense smoke 415 metres from the well entrance. Efforts were continuing to discharge the smoke from the well.

"It is some 8,000 metres from the entrance to the workplace where the explosion took place. The 116 workers rescued out of the coal mine were working near the entrance when the explosion occurred, and some miners we rescued were poisoned by carbon monoxide," the official said.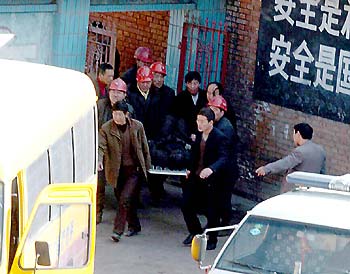 A rescued miner is moved to a medical vehicle at the mine gate. [newsphoto]

Another official who took part but declined to provide his name, said since there is no air in the underground area where the missing miners are, it is impossible for them to have survived.

Li Jianguo, secretary of Shaanxi Provincial Committee of Chinese Communist Party, and Chen Deming, acting governor of Shaanxi Province, arrived at the accident-hit mine. The local government also transferred 10 recovery teams from other mineral bureaux to support the Chenjiashan Coal Mine, the director said.

And after receiving an accident report, Zhao Tiechui, deputy director of National Safe Production Supervision and Administration Bureau, led a group that arrived at the accident scene on at noon yesterday.

Tongchuan, some 120 kilometres north from Xi'an, capital of Shaanxi, is one of China's coal production bases. The Chenjiashan Coal Mine is a large State enterprise which produces 2.3 million tons of raw coal annually.




Today's Top News
Top China News

Mine blast traps 166, alerts nation




Cover-up lands 16 officials in court




Adjustment for fiscal policy discussed




Goal: Clean drinking water for all by 2024




New regulations on lab safety kick off




Ukraine parliament calls election invalid