Women's soccer final: China 0-2 Germany
(Agencies)
Updated: 2004-11-28 09:09
Germany defeated China 2-0 Saturday to win the FIFA world women's under-19 championship.
A fourth-minute goal by Simone Laudehr put Germany ahead for good, and a goal by Melanie Behringer in the final minutes of the second half assured the victory.
Earlier, the United States thumped Brazil 3-0 to claim third place at Bangkok's Rajamangala Stadium. Kerri Hanks opened the scoring for the United States with a goal in the 21st minute. Megan Rapinoe and Angie Woznuk also scored.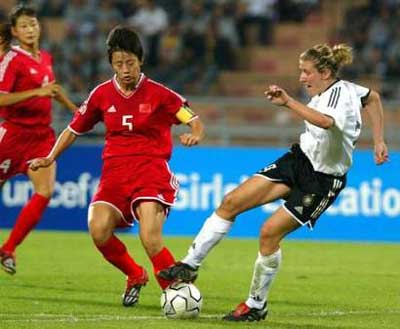 China's Sun Yongxia (5) fights for the ball with Germany's Anja Mittag (9) during the first half of the U-19 Women's World Cup Championship game at Rajamangala Stadium in Bangkok, November 27, 2004. [Reuters]
The United States won the inaugural championship by beating Canada in the final at Edmonton in 2002. Canada lost to China in the quarter-finals this year.
Canada was the only team to take points off the Germans, tying them 3-3 in a preliminary round game when both teams had already secured berths in the quarter-final. Canada rallied from a 3-3 deficit in that game.
Despite exiting at the quarter-final stage, Brittany Timko of Coquitlam, B.C., finished as the tournament's leading scorer with seven goals in four games. She follows in the footsteps of Canadian Christine Sinclair, who led the 2002 tournament with 10 goals.
Anja Mittag of Germany was second in Thailand, with six goals in six games.
Canada, with 13 goals, finished second in tournament scoring to German (19).
Today's Top News
Top Sports News

170 trapped in coal mine gas explosion; 123 rescued




Ukraine parliament calls election invalid




DNA data bank to help track down criminals




US$25,000 in compensation for crash victim




Expert: SARS vaccine good so far




Regulations passed to prevent virus spread