Black boxes decoded, cause still unclear
(Xinhua)
Updated: 2004-11-27 22:43
Experts have decoded the contents of the recorders, known as "black box", of a crashed passenger aircraft, but the cause of the accident is still unclear, said Xu Li, spokesman for a State Council investigation team, Saturday.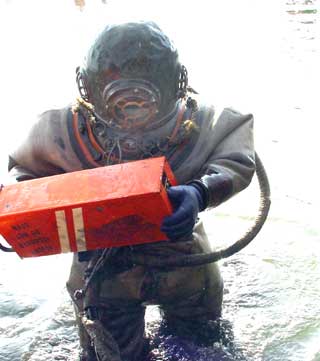 A frogman carries the flight data recorder out of lake in Baotou November 24, 2004. Black boxes of the passenger plane crashed Sunday in Baotou, Inner Mongolia, were found and retrieved. The black boxes, a pilot cabin voice recorder and flight data recorder, could help determine the cause of the crash that killed 55 people, including two on the ground. [Xinhua]

The recorders, which were found on the crash site on Nov. 24, were immediately sent to Beijing for decoding. Experts from China,the United States and Canada are now studying the data and information acquired from the "black box".

A Canadian-made Bombardier CRJ200 crashed into a park lake in the suburb of Baotou in north China's Inner Mongolia Autonomous Region, one minute after it took off towards the east China metropolis Shanghai, killing 53 people aboard and two on the ground.

So far, more than 90 percent of the remains of the plane have been recovered and most parts of it have been badly damaged, according to the experts.

Victims' bodies claimed

Family members claimed the remaining five victims' bodies of the Nov. 21 air crash in Baotou, said an official with the investigation team.

The official said all 55 bodies have been claimed by their family members. The corpuses were identified by DNA testing.

The investigation team will try to fulfill the requirements raised by family on beautification of the remains before cremation.

Body cremated

The body of Chen Suyang, a victim of the air crash six days ago, was cremated Saturday morning in the funeral home in Baotou.

It's the first body of victims being cremated, said an official with the funeral home. Chen was an employee of the Shanghai Fudan Fuhua Scientific and Technological Shareholding Company. Before the cremation, people paid their last respects to the remains of the deceased.

Bodies of other victims will be cremated subsequently after body recognition by their relatives.

The 50-seat branch-line jet CRJ-200, with 47 passengers and six crew members aboard crashed into a giant lake of Nanhai Park in Baotou on November 21, killing all people on board and another two persons on ground.







Today's Top News
Top China News

Ukraine parliament calls election invalid




Black boxes decoded, cause still unclear




WTO lets EU, others hit US with sanctions




Eight students slain; attacker arrested




People need better AIDS, HIV information




Anti-corruption drive to dig deeper