Students need support to boost their start-ups
By Yu Zhong (China Daily)
Updated: 2004-11-27 11:17
Painted orange and accented with jade green table napkins, "The Eighties" is filled with a fascinating air of youth and vigour by its callow bosses.
But the fledging restaurant, opened one month ago by eight college graduates, loses 2,000 yuan (US$242) every day.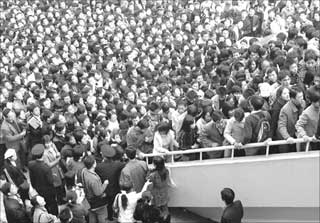 More than 20,000 university students in Xi'an, capital city of Northwest China's Shaanxi Province, wait on November 5 to confirm their registration for 2005 national examination for civil servants. There are 1,553 posts available from Shaanxi provincial government and 8,400 from central government departments. [China Daily]

Restaurant manager Zhao Mingchen, one of eight graduates from Beijing Union University, has much to say about the matter.

"We envisioned a lot of trouble. But we still underestimated the situation," Zhao said.

Upon their graduation in July, Zhao and his seven partners successfully contracted a small restaurant in their alma mater after severe bidding.

Zhao and a female classmate gave up other job offers to fully devote themselves to the restaurant.

Zhao has become trapped in countless "tedious" errands between various government units fulfilling differing formalities.

"I took it for granted that it would take less than a month to complete the registration. But I was wrong," Zhao said.

It was not until late October when the young man, in his 20shad most of the necessary permits prepared that the shop was opened up.

"The one-stop service is unworthy of its name. It is a simple clustering of different offices for different permits," Zhao said, referring to the much-touted government service which is designed to save time and offer more convenience to business applicants.

"You have to get one permit before you can go on to apply for another one. The point is you can not get any permit immediately. You have to wait for five or 10 days."

Almost all entrepreneurs share Zhao's experience. He hopes there would be a one-stop service for college students or new graduates like him.

"In most places, green passage is open to foreign investors who are often ignorant of Chinese investment policies. How about us students who lack the knowledge of running a business?" Zhao said.

His words were echoed by Fu Yueqin, who works at the Students Department of Beijing Union University.

"College students in their early 20s are short on experience and money. There is no doubt they should be given some support," Fu said.

Despite the common difficulties in starting a new business, Zhao is particularly puzzled about the policies.

"We learned in school the State issued preferential policies encouraging college graduates to create their own businesses, but we didn't enjoy any of them," the young manager said.

He paid the all necessary fees, including full service fees, which went far beyond his expectation of "student-run business enjoying preferential policies."

No preferential treatment

It later dawned on him that the privileges are not for every graduate.

The State Administration for Industry and Commerce issued a relevant policy to reduce yearly fees for registration and service, but only for those who run individual business.

"The policy is continued this year and will be in the future," said Zuo Jun, spokesman of the administration.

Zhao and his partners registered under the identity of a share-holding company, instead of a privately-owned small business, which therefore stripped them of the privilege.

A privately-owned small business is required to employ less than eight workers and has no minimum registered capital.

A share-holding company requires a minimum registered capital of 100,000 yuan (US$12,048).

Local taxation authorities said they provide income tax exemption according to the nature of a company, regardless of what kind of person the owner is.

"We offer no preferential policy particularly for new graduates," said an anonymous employee of the Beijing Taxation Bureau.

Also, most college students interviewed said the government should have made the policies and regulations available on compus.

Colleges are also criticized for opening no courses which can instruct students on how to start a business and what kind of preferential policies they can enjoy.

For Zhao, another big hurdle he met in the last months was set by banks.

Though the current company law provides that the registered capital for a limited company can be as low as 100,000 yuan (US$12,000), Zhao was refused in succession by several banks at the beginning.

"The banks said they would not do business with such a small customer," Zhao said.

"We only provide accounts for companies with a registered capital of more than 1 million yuan (US$120,000)," said an employee surnamed Liu with the Beijing Branch of the Industrial and Commercial Bank of China.

The bank cannot handle too many customers, so it has to choose "the best," she added.

It was a strenuous process for Zhao to finally open an account in a bank nearby the university.

Experts say while encouraging students to create businesses of their own, the government should consider matching the call with specific assistance.

However, there is a debate between teachers and students on what kind of policies the government should make.

Fu insists the State must extend the favourable policies to a wider group of students and to a greater degree instead of limiting them in the individual economy sector.

"The State has launched various programmes lately, such as the Go-West Volunteer Programme, and most are supplemented with attractive and concrete policies," said Fu.

Call for more support

For example, students who volunteer to work in West China are guaranteed a better chance to work in government departments when they return.

"The students who choose to create their own businesses upon graduation are helping relieve employment pressure. In this sense, the government should give more encouragement," Fu said.

Some 2.8 million college students graduated this summer, up 32 per cent from last year.

Next year, the number of graduates will reach 3.4 million, which will pose a serious challenge to the job market, Fu said.

Many college students like Zhao and Liang said they do not really care if there are any preferential policies.

"What we need most is practical advice and training about how to start a business and how to deal with possible difficulties," Zhao said.

"Every entrepreneur will face the same opportunities and same traps and experience fierce market competition, no matter whether he or she is a new graduate or not," Liang said.

Cai Zhen, director of the career centre of Tsinghua University, suggested the State make different policies for different students.

"For those who want to create a business involving little technology, the government must lend stronger support, since they may not take out loans as easily," said Cai.

Students who start high-tech business can always drum up support from the government and society, he said.

Most of the student business starters begin their self-employment career out of passion instead of an expedient, Cai said.

In this case, he does not advise every college student to follow the trend.

"It is said only one out of every 10 new businesses can be successful, let alone those created by new graduates," Cai said.

He urged students to have a second thought before they take action.

Tsinghua holds an entrepreneurship competition for students annually, attracting 200 to 300 contestants each year.

"But we never over-advertize it because we are fully aware it can be a double-edged sword," said Cai.

Zhao, who still shows full confidence in the future of his restaurant, warned his peers to bear in mind a more complicated picture of coming challenges in the foreseeable future before they get going.

"A trustworthy and helpful partner is also important," he said.




Today's Top News
Top China News

Eight schoolboys slain in Henan; attacker arrested




People need better AIDS, HIV information




Anti-corruption drive to dig deeper




WTO lets EU, others hit US with sanctions




Graduates compete for government posts




Radiation source found and sealed