Graduates compete for government posts
(China Daily)
Updated: 2004-11-27 11:14
Xiao Ji, a graduate student with the School of Journalism and Communications at Tsinghua University, said she waited for about two hours to register for next year's civil servant examination.
Twenty-two out of 26 in her class have signed up for the 2005 national examination for civil servants in an indication of how intense the competition will be.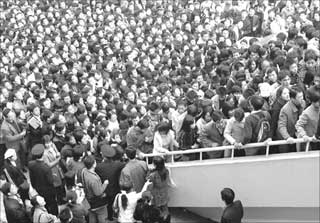 More than 20,000 university students in Xi'an, capital city of Northwest China's Shaanxi Province, wait on November 5 to confirm their registration for 2005 national examination for civil servants. There are 1,553 posts available from Shaanxi provincial government and 8,400 from central government departments. [China Daily]

Statistics from the Ministry of Personnel suggest that 310,656 people have qualified for the test to compete for 8,400 vacancies in 103 different central government departments. That means there's only one job for every 37 people.

Students anxious to pass the crucial examinations have been out buying special reference books to get hints on how to do well.

Xiao said she had bought 5 reference books for 100 yuan (US$12) and spent 210 yuan (US$25) on a two-day course.

Although the Ministry of Personnel has repeatedly emphasized that there is no officially designated reference book for the exam, at least 20 books published by five publishing companies have sold well around the country.

Dozens of one or two-day courses charging between 200 yuan (US$24) and 300 yuan (US$36) have also proven popular with the students.

Some professional websites have also been charging to answer online questions about the test.

The national examination for civil servants, introduced in 1994, has its own set of rules.

Everyone who wants to become a new civil servant has to go through the following procedures.

The applicant first needs to log on to the official website of the Ministry of Personnel in October, choosing a vacancy and submitting his or her personal information.

The registration usually takes about 10 days. The applicant should then go to confirm the application at designated places in major cities and is given an examination card.

The examinations are held at the end of each November. The examination for 2005 is to be held on November 27.

There are two kinds of examinations, depending on which government departments the applicant has applied for.

The first type consists of tests for administerial ability and essay writing. The second only tests administerial ability.

The civil servant department of the Ministry of Personnel explains that the exam was designed by a special committee comprising professors and experts of various universities such as Renmin University of China and National School of Administration.

"The exam aims to test the applicant's abilities on analysis, synthesis, logic and comprehension, all of which are the basic qualifications for civil servants," Professor Zhang with the exam committee said.

"Although the formula of the exam has not changed much since 1994, it has been made harder.

"It is not the best way, but we cannot find a better way now."

University students usually account for about 70.7 per cent of all applicants. They apply for different reasons.

"Despite my major in technology, I would really like to be a civil servant to do some social work," said Xiao Yang, a graduate student majoring in computer science at Tsinghua University.

Growing enthusiasm from graduates

"In fact, I have worked in the students union for several years and enjoyed the administrative work."

Cheng Lu, a student at Renmin University of China, said she felt being a civil servant is more suitable for female students.

"All of my friends and parents think I should be a civil servant because the job is more stable and with less pressure," she said.

"The welfare of civil servants seems to be quite good."

Beijing Normal University undergraduate Gao Ying said he was not sure whether he would like the work.

"Given the fierce competition in the job market, I feel it's really hard for me to find a satisfactory job," he said.

"So I just want to have a try, as many other people have done."

More than 3 million college students are expected to graduate in coming July.

The exam is one of the best choices for university graduates because it is open to everyone and has few limitations.

There are perks and a higher social status in the civil service compared with other careers.

Change in government structure over the years makes the career one that will see challenges ahead.

As a result, the traditional image of the civil servant as idle, mediocre and unambitious is also likely to change as never before.

Civil servants in China enjoy housing subsidies and medical allowances among other benefits.

"The job is exactly what I wanted, busy and interesting. I will experience some very important events here, and that should give me a good feeling," said Zhang Lin, who passed the exam in 2002 and now works in the Information Office of the State Council.

He stressed that the civil service was not a "golden bowl" as some people thought, and had little "grey income."

"If you want to work in government departments, you must make sure you fit your job and like it," Zhang said.

Professor Zhang interprets the university students' growing interest as a natural phenomenon.

"The present examination system has proven better in choosing more qualified people for these posts," Zhang said.

"The new selection formula has showed much progress."

But he went further, warning that it is not rational behaviour for too many applicants to compete for such a limited number of government posts.

"University students' preoccupation with government posts may spread the idea of power admiration and have a negative influence on young people's attitudes in seeking jobs," Zhang said.




Today's Top News
Top China News

Eight schoolboys slain in Henan; attacker arrested




People need better AIDS, HIV information




Anti-corruption drive to dig deeper




WTO lets EU, others hit US with sanctions




Graduates compete for government posts




Radiation source found and sealed