Barghouthi drops election bid
(Agencies)
Updated: 2004-11-27 08:48
Jailed Palestinian leader Marwan Barghouthi will not run in the Palestinian presidential election, an official said on Friday, following pressure from the ruling Fatah faction to support Mahmoud Abbas.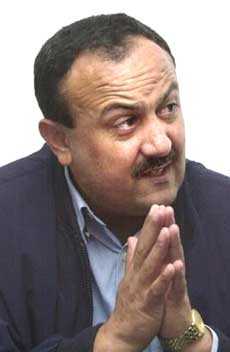 Uprising leader Marwan Barghouti seen in an interview with The Associated Press in the West Bank town of Ramallah in this Tuesday, Oct. 13, 2001 file photo . Barghouti, leader of the younger Fatah activists and serving a life sentence in an Israeli jail, told associates Thursday that he intends to run for Palestinian Authority president, but has not yet issued a formal statement. [AP]

Fatah leaders had feared that Barghouthi, a popular leading member of the group founded by Yasser Arafat, could split the group if he had decided to go ahead with plans to run in the Jan. 9 poll.

Cabinet minister and group member Qaddoura Fares, who visited him earlier in prison, said the 45-year-old former lawmaker had called on his followers to endorse Abbas, leader of the Palestine Liberation Organisation, to succeed Arafat.

"In order to maintain the unity of the movement ... (Barghouthi) is calling upon the sons of the movement and his supporters to support the movement's nominee Mahmoud Abbas," Fares told reporters in the West Bank town of Ramallah.

Fatah had sent Fares to try to dissuade Barghouthi from challenging Abbas, the group's presidential nominee and a moderate former Palestinian prime minister.

Barghouthi had said through confidants that he had planned to run in the election in what Palestinian analysts called an expression of dissatisfaction by younger Fatah officials by what they saw as their marginalisation by veteran leaders.

He dropped his bid shortly before Fatah voted to hold its first internal election in 14 years next August, a ballot expected to give younger grassroots activists a larger say in decision-making.

LIFE SENTENCE

Barghouthi was sentenced in June by an Israeli criminal court to five life terms after it convicted him of involvement in the killings of Israelis. He had said he was a political leader with no involvement in violence.

Israel has ruled out an early release for Barghouthi.

Following Fares's announcement, Barghouthi's wife and teenage daughter burst into tears as several Palestinians shouted "This is injustice!"

Abbas, 69, lacks the charismatic Barghouthi's grassroots popularity but he is favoured as a future peacemaker by Israel and the United States. His defeat could deal a blow to any international effort to revive violence-stalled peace efforts.

Fatah's Central Committee nominated Abbas for president earlier this week and the faction's Revolutionary Council approved the decision on Thursday.

Palestinian political analysts had predicted Barghouthi would stand a good chance of winning the ballot, drawing support from mainstream voters as well as from Islamists who oppose Abbas's call to end the uprising.

Fatah's pro-Barghouthi "young guard", a generation raised under Israeli occupation in the West Bank and Gaza, has been demanding a stronger voice in a faction dominated by exiles who returned after interim peace deals with Israel in the 1990s.

He was the main voice of a revolt for an independent Palestinian state after peace negotiations collapsed in 2000 and has long been seen as a potential successor to Arafat.

Passionate and articulate, the bearded and diminutive Barghouthi has also advocated peace with Israel, making his case for an end to occupation in near-perfect Hebrew learned during previous jail stints.




Today's Top News
Top World News

Eight schoolboys slain in Henan; attacker arrested




People need better AIDS, HIV information




Anti-corruption drive to dig deeper




WTO lets EU, others hit US with sanctions




Radiation source found and sealed




Agriculture still top priority next year