Radiation source found and sealed
By Cao Desheng (China Daily)
Updated: 2004-11-26 23:56
Henan provincial environmental protection authorities in Central China sealed a deserted radioactive neutron source on Friday.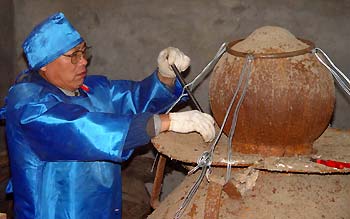 A worker fastens the iron jar that contains a deserted radioactive neutron source in Fangcheng County, Henan Province, Central China. The container was scheduled to be moved to a safe storage area inside the province last night.[nesphoto]

The radium-beryllium neutron source contained by an iron tank around 2 metres in height was safely moved to a provincial saferoom especially designed to hold radioactive waste.

The radioactive material was discovered in an agricultural technology promotion centre in Fangcheng County as part of a nationwide effort launched to find and deal with the abandoned radioactive sources that began in May.

The campaign, jointly launched by the State Environmental Protection Administration (SEPA), and ministries of public security and health, aims to impose safe controls on abandoned sources and to ward off radioactive pollution.

The peanut-sized radioactive source was applied to breeding and has been deserted since 1983, said Du Lianhai, an official with the provincial environmental protection bureau. It was moved to the saferoom in Zhengzhou, capital of Henan Province.

Du arrived at Fangcheng County on Thursday, together with five experts, to help deal with the neutron source.

The source is very dangerous and human beings and livestock within a diameter of 1,000 metres around it could have been hurt if it leaked, Du said.

Radiation sources are classified in five levels, with level one being the most dangerous and level five being the least dangerous. The radioactive source in Fangcheng County belongs to the second level, according to Du.

A majority of the sources of radiation in use in China are at the four and five level.

Those who suffer long-term radiation can faint and develop poor appetites and even lose their lives in serious cases, he said.

More than 63,000 radiation sources are used by more than 8,300 organizations and companies across the country, SEPA's statistics show.

About 13,800 abandoned sources need to be controlled.

Nearly 20 to 30 per cent of the radiation sources in China are used in the medical and health care fields and 70 to 80 per cent are spread through dozens of fields such as agriculture, scientific research and mine exploitation, according to Li Ganjie from the management department for nuclear safety and radioactivity under the administration.

According to Li, more than 1,500 accidents involving radioactivity have occurred in the country since 1954.

A fatal accident occurred in October 1992, in Xinzhou, North China's Shanxi Province. It killed a construction worker who picked up the source at his construction site and took it home. The worker's father and brother also died.

Du said the deserted radioactive sources are usually retrieved by manufacturers in other nations, but in China, the government is responsible for the collection task.

A special national fund should be established for collecting and handling deserted radioactive sources, he said.




Today's Top News
Top China News

Nine schoolboys slain; attacker escapes




People need better AIDS, HIV information




Radiation source found and sealed




Anti-corruption drive to dig deeper




Agriculture still top priority next year




Rules to ban arsenic tightened