Two police jailed over Miyun stampede case
(Xinhua)
Updated: 2004-11-26 22:10
Two police officers in charge of a police station were sentenced to three years in jail for dereliction of duty in a major stampede case in a Beijing park early this year.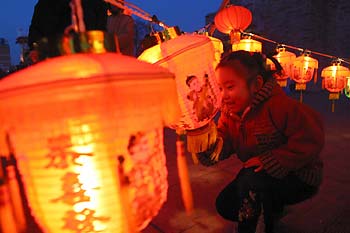 A file photo shows a girl watching the lanterns in Miyun latern fair in 2003. [newsphoto]

The ruling was handed down on Friday in a trial at the Beijing No 2 Intermediate People's Court.

The stampede took place on Feb. 5 during the China's Spring Festival lantern festival on a bridge in Mihong Park in the Miyun County suburbs. Thirty-seven people were killed, including several who suffocated and others who fell off the bridge. Two dozen others were injured.

Many people were crowded onto the bridge in order to get a good position for watching brightly lit lanterns on display there, witnesses told the court. The accident was later proved by the procuratorate to have been the result of criminal malfeasance.

Sun Yong, who was then chief of the Miyun County police station, and Chen Bainian, then the police station commissar, failed to dispatch enough officers to guide the flow of visitors at the bridge, the court said.

When the chaos began, there were no police at the bridge to prevent the situation from getting out of control.

Earlier, another 12 people were also punished for their roles in failing to prevent the accident. They were either fired or received administrative demerits or warnings inside the Party.

Xia Qiang, secretary of the Miyun County Committee of the Communist Party of China, was disciplined within the Party over the accident. County head Zhang Wen admitted his mistake and resigned.




Today's Top News
Top China News

170 trapped in coal mine gas explosion; 123 rescued




Ukraine parliament calls election invalid




DNA data bank to help track down criminals




US$25,000 in compensation for crash victim




Expert: SARS vaccine good so far




Regulations passed to prevent virus spread