European envoys arrive in Ukraine
(Agencies)
Updated: 2004-11-26 20:31
President Leonid Kuchma met with high-level European envoys Friday while thousands of opposition supporters surrounded and barricaded government buildings as they intensified protests against the outcome of disputed presidential elections.
Official results from Sunday's presidential runoff indicate Kremlin-backed Prime Minister Viktor Yanukovych won. But his Western-leaning opponent, Viktor Yushchenko, says the ballot was rigged, and Western observers concur.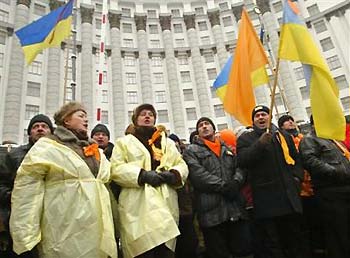 Demonstrators waving Ukrainian National and orange flags gathered and blocked entrances of the Ukrainian government building, on the background, in Kiev, Friday, Nov.26, 2004. The protesters standing five deep and linking arms blockaded the Cabinet building where Viktor Yanukovych the winner of Sunday's much criticized presidential vote works and refused to let staff enter. Protesters had also surrounded the presidential administration building, which is guarded by ranks of police in riot gear. [AP]
Outgoing President Leonid Kuchma and Yushchenko were due to meet before European envoys on Friday, the Interfax news agency reported.
Javier Solana, the European Union's foreign policy chief, arrived in Kiev. Jan Kubis, current head of the Organization for Security and Cooperation in Europe whose election observers criticized the election as marred by fraud, and Lithuanian President Valdas Adamkus were also due to arrive.
Solana's spokeswoman, Christina Gallach, said there was no immediate plans for a meeting between Solana, Kuchma and Yushchenko.
Ukraine, a nation of 48 million, has been seized by the escalating political crisis since Sunday. Throngs of protesters have set up a sprawling tent camp in Kiev, braving freezing temperatures for five straight nights.
In Chernihiv, about 80 miles north of Kiev, police fired shots above and threw tear gas at a pro-Yushchenko crowd trying to enter a city council meeting, the Unian news agency cited parliament member Mykola Rudkovsky as saying from the scene.
The report cited him as saying that ambulances were on the scene. There were no immediate details available on possible injuries.
In Kiev, protesters standing five deep and linking arms blockaded the Cabinet building where Yanukovych works and refused to let staff enter, heeding a call Thursday by Yushchenko's popular and more radical ally Yuliya Tymoshenko. Police were packed into about 12 buses nearby.
Protesters also blocked all surrounding streets with buses and vans decorated with Yushchenko's orange flags, posters and ribbons. In an alley some 1,000 feet away from the protesters special forces had parked about 30 trucks and jeeps.
Protesters also surrounded the presidential administration building, which was heavily guarded by ranks of police in riot gear.
The Supreme Court on Thursday ordered that the Central Election Commission's final tally not be published pending the outcome of an appeal against the results filed by the opposition candidate's camp. The appeal will be heard Monday, and Yanukovych cannot be inaugurated until results are published.
Although Yanukovych enjoys the backing of Kuchma, Ukraine's Supreme Court is respected as an unbiased body that hasn't hesitated in the past to take decisions against the government, said Igor Zdanov, a political analyst with the Kiev-based Razumkov think tank.
Yushchenko praised the decision but told the crowd, "This is only the beginning."
On Thursday, his campaign chief Oleksandr Zinchenko announced that the opposition-formed National Salvation Committee ¡ª a kind of parallel government ¡ª would establish national self-defense organizations and take responsibility for defending the Ukrainian Constitution.
Tymoshenko has called on opposition supporters to seize power by surrounding government buildings, blocking railways and transport.
Yanukovych said late Thursday, "I don't see any possibility for resolving this conflict by the path of ultimatums ... we should sit at the negotiating table," news agencies reported.
But Yushchenko has insisted that the main condition for starting discussions was that "both sides acknowledge the results of the election were not valid."
Neither Kuchma nor Yanukovych has shown any willingness to do so.
Polish President Aleksander Kwasniewski arrived in Ukraine on Friday at Kuchma's request and was meeting with the Ukrainian leader at his villa outside the capital, according to news reports. He was also due to meet with Yanukovych and Yushchenko, the Polish Embassy said. Kwasniewski was bringing a three-point plan: calling on both sides to renounce violence, to urge a re-count of the vote and to try to initiate talks.
The crisis has threatened to further divide Ukraine and raised the prospect of civil conflict. Yanukovych drew his support from the pro-Russian, heavily industrialized eastern half of Ukraine. Yushchenko's strength was in the west, a traditional center of nationalism.
On Thursday, Yushchenko supporters set up a barricade of logs and burning tires along a main western road leading from the city of Lviv to the Polish border.
"We are doing this for our president, Yushchenko," said Maria Cherkas, standing at the roadblock.
In Kiev ¡ª Ukraine's very European capital, which has thrown its support overwhelmingly behind Yushchenko ¡ª opposition supporters maintained their vigil on Independence Square, while Yanukovych supporters continued to arrive from the east on trains and buses.
The election has led to an increasingly tense tug-of-war between the West and Moscow, which considers Ukraine part of its sphere of influence and a buffer between Russia and NATO's eastern flank. The United States and the European Union have said they cannot accept the results and warned Ukraine of "consequences" in relations with the West.
Russian President Vladimir Putin has openly backed Yanukovych.
Today's Top News
Top World News

Nine schoolboys slain in Henan; attacker arrested




People need better AIDS, HIV information




Anti-corruption drive to dig deeper




WTO lets EU, others hit US with sanctions




Radiation source found and sealed




Agriculture still top priority next year