Can the roaring youth save Taiwan film?
(Agencies)
Updated: 2004-11-26 13:57
Taiwan's annual Golden Horse Film Festival kicked off this week and will end with the Golden Horse awards ceremony on Dec. 4 in Taichung in central Taiwan.
.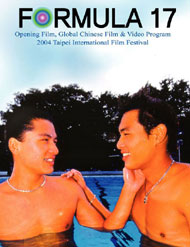 The poster of the film "Formula 17" directed by 24-year-old DJ Chen depicting same sex love. [file photo]

The festival, which takes place both in Taipei and Taichung and screens Chinese-language films, used to be a showcase for Taiwan's once flourishing film industry.

But in recent years, it has become an embarrassing reminder of the ailing fortunes of the island's film industry - its domestic box office share this year accounts for a bit more than 1 percent of the total.
.
But a new generation of Taiwanese filmmakers and producers is beginning to make waves, raising some hopes of a reversal in the troubles of the industry, which has largely been abandoned by domestic audiences as boring, irrelevant or artistically self-indulgent - although the movies are generally well-regarded on the international festival circuit.
.
The youngest directors are referred to as the "seventh grader generation" - filmmakers born after the 1980s. Many of them are still university students.
.
One of the best-known, DJ Chen, 24, has a rare hit on her hands and is regarded as the first of an emerging generation of filmmakers who are interested in making more popular films. "Formula 17," a gay sex comedy set in Taipei, is the second-highest-grossing local film at the box office so far this year.
.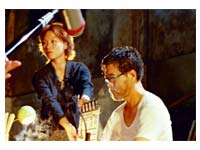 DJ Chen (L) directs the flim "Fomular 17" on the filming scene. [file photo]

The first is the documentary "Gift of Life," directed by Wu Yii-Feng, about the earthquake in 1999 in which more than 2,000 people died. "Gift of Life" has grossed about $308,000 so far this year. By contrast, "Spider-Man 2," the largest box-office taker, has grossed about $3.7 million.
.
"Entertainment is seen as a dirty word by many Taiwanese film-makers," DJ Chen said. "I don't know why it's become such a shameful thing, as one of the primary functions of a film is to entertain audiences.
.
She added: "Maybe in the past some filmmakers thought 'entertainment' was sullied by the aspect of making money, that they can't get creative satisfaction from entertaining audiences but only from expressing themselves. But I think if you can make a movie that makes people happy, have a good time, or be moved, there's nothing wrong with that."
.
The production company that spotted DJ Chen's talent after seeing one of her digital short films at a previous Golden Horse Film Festival has a similar philosophy.
.
Three Dots Entertainment is headed by Michelle Yeh, 28, and Aileen Li, 32, both of whom began their careers in film distribution and marketing and who aggressively promoted the film months before it went into production.

"When we made 'Formula 17' we wanted to establish the company, explore new talents and recoup on the investment, but the box office success went way beyond our expectations," Yeh said.
.
Buoyed by the success of "Formula 17," Three Dots Entertainment is working on three new projects, all genre movies. They include a follow-up film by DJ Chen, another romantic comedy, and a horror film by another young talent, Leste Chen. The latter director, who is in his last year of university, started out making music videos, television commercials and short films. His last film, "Uninhibited" - about young people dealing with issues including abortion, drugs and homosexuality - was screened at this year's Venice Film Festival.
.
Leste Chen says one reason that many emerging young filmmakers may be more popular in their outlook is simply that they are closer in age to Taiwan's primary movie-going audiences. "We're part of a generation that gets excited when new films come out. We'll go and line up to see them. We want our films to have the same effects on audiences," he said.
.
Another filmmaker, 22-year-old Kevin Ko, whose short horror movie, "The Print," created a buzz on the local festival circuit and on the Internet, says that many of Taiwan's youngest filmmakers have grown up influenced by Hollywood or other foreign movies. "I hardly watched Taiwanese films," he said. "I think many of them are dull and boring, or they are highly artistic films, not easily understandable by audiences.
.
"Maybe my generation doesn't think as seriously about issues as the previous generation," he continued, "but there is a need for films with a 'lighter' feeling."
.
Among films about to go into production with 20-something directors is a fantasy action movie by a first-time director, Shih Chun Han, 23, with a budget of more than $1 million.
.
Despite the recent excitement generated by the young filmmakers, however, some insiders remain skeptical about the fate of the film industry as a whole. "It will take a lot to get the film industry going again," said Tien Tsung Ma, vice president of Pandasia films, which is producing Shih's project. "We've had our hopes raised before, and it never happened."
.
Michelle Yeh of Three Dots Entertainment is also cautious: "What will help secure a trend, to help rejuvenate Taiwan cinema, is to have a big breakthrough film, followed by a successive run of small or medium budget films to get the audience watching Taiwanese rather than Hollywood films."
.
The Taiwanese government is doing its part, with new financial incentives in the pipeline, including tax breaks for business investors.
.
The real challenge, though, will be to woo back audiences, who seem to need some convincing that they might actually enjoy watching a Taiwanese film.




| | |
| --- | --- |
| | |
| Maggie Cheung in sexy pose | |

| | |
| --- | --- |
| | |
| Kelly Chan won 59th World Outstanding Youth Award | |

| | |
| --- | --- |
| | |
| The Thanksgiving Day celebrated | |
Today's Top News
Top Life News

Eight students killed in a Henan high school




N.Korea, US to discuss six-way talks in Dec




Chinese AIDS vaccine to be tested on humans




Court rules on property rights




Dollar struggles, hits record low vs euro




Commentary: Facing up to student sex



Story Tools


Advertisement