Jailed leader to run for Arafat's job
(Agencies)
Updated: 2004-11-26 10:18
Marwan Barghouti, a fiery Palestinian leader serving multiple life terms in an Israeli prison, indicated Thursday that he is running for Yasser Arafat's position as head of the Palestinian Authority, defying the traditional leadership and scrambling the political picture ahead of the Jan. 9 election.
Barghouti, 45, is challenging interim leader Mahmoud Abbas, 69, a pragmatist who appears to have the tacit support of Israel and the United States.
Late Thursday, the Fatah Revolutionary Council formally endorsed Abbas. Palestinian official Tayeb Abdel Rahim said this was the final approval, making Abbas "the only candidate of the Fatah movement."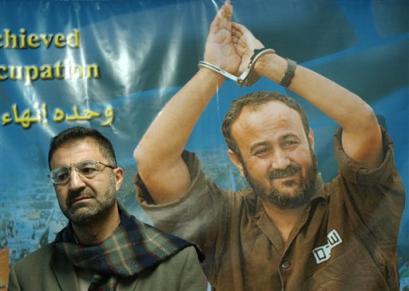 Backdropped by a poster of jailed Palestinian uprising leader Marwan Barghouti, Abdel Rahaman Shomali, a member of the Fatah Higher Committee, one of Fatah's key institutions talks to the media at Barghouti's campaign office in the West Bank city of Ramallah, Thursday, Nov. 25, 2004. Barghouti, a fiery young Palestinian leader, made it known Thursday that he is running for Yasser Arafat's position as head of the Palestinian Authority. [AP]

Barghouti's candidacy sharpens a power struggle in the ruling Fatah movement, pitting the old guard of politicians, like Abbas, who returned with Arafat from exile in 1994, against the younger generation of activists who led two uprisings in the West Bank and Gaza Strip. Arafat ruled Fatah for nearly 40 years until his death Nov. 11.

The uprising leader is serving five life terms for his role in attacks on Israelis. Israel's leaders insist he will remain in prison. This week Israeli Foreign Minister Silvan Shalom called him a "murderer." Barghouti's supporters have said they are counting on international pressure on Israel to free him.

Defying his own party, Barghouti informed associates Thursday, through his lawyers, that he would run. He would have to stand as an independent, threatening a split in the Fatah vote that could even propel an outside candidate into the presidency.

A Palestinian official said late Thursday that Cabinet Minister Kadoura Fares, a Fatah leader, would visit Barghouti in prison on Friday. Another Fatah official, Abdel Rahman Shomali, said he would distribute a statement by Barghouti later.

Meanwhile, Israel said it will remove all roadblocks in the West Bank on Jan. 9 in a move to allow a free election, according to security officials speaking on condition of anonymity. As alternative security measure, Israel will ban Palestinians from entering the country. Removal of the roadblocks is a key Palestinian demand.

Both Abbas and Barghouti support the creation of a Palestinian state in the West Bank, Gaza Strip (news - web sites) and east Jerusalem.

The two differ on the uprising. Abbas has spoken out against violence and said the current uprising was a mistake, but Barghouti has justified attacks on Israeli soldiers and settlers in the West Bank and Gaza as legitimate resistance to occupation.

Barghouti was the West Bank leader of Fatah when he was captured in the city of Ramallah by Israeli forces in April 2002. He has been in Israeli custody ever since.

Before the current round of violence erupted in September 2000, Barghouti was known as a moderate, advocating creation of a Palestinian state living peacefully alongside Israel. Speaking fluent Hebrew, he had frequent contact with Israeli peace activists.

However, even his Israeli backers discerned a change in his tone after the current uprising began. His public statements were more strident, encouraging resistance against the Israelis, and he refused to denounce attacks. During his trial, Israel charged that he was directly involved in deadly attacks, but Barghouti insisted he was a political activist not linked to violence.

Also Thursday, Israel's ceremonial president, Moshe Katsav, was quoted as saying that if Palestinians halt attacks, Israel should stop building its contentious separation barrier along the West Bank.

The barrier and withdrawal from Gaza are part of Israeli Prime Minister Ariel Sharon's "unilateral disengagement" from the Palestinians. Sharon says the barrier ¡ª which runs mostly close to Israel, but also dips into the West Bank in some areas ¡ª would serve as a temporary frontier until a final peace deal is negotiated.

Sharon put the plan forward while Arafat was alive. Sharon hoped it would allow Israel to seize the initiative, avoid dealing with Arafat and reduce international pressure on Israel to accept more far-reaching proposals.

Katsav said in excerpts of an interview with the Maariv daily that it would be in the interest of Israelis and Palestinians to halt construction of the barrier.

"If the Palestinians end terror, Israel must stop building the separation fence," Katsav said.

Sharon's aides declined comment on Katsav's remarks.

More than 1,000 Israelis have been killed in suicide bombings and shootings in more than four years of fighting. More than 3,300 Palestinians have been killed in the same period, most of them in clashes with Israeli troops.

Also Thursday, British Foreign Secretary Jack Straw met with Palestinian officials, wrapping up a two-day visit that also included talks with the Israelis.

Straw said he was encouraged by Israeli offers to ensure the Palestinian election go smoothly. "I'll be leaving Israel and the occupied territories more optimistic than when I came," Straw said.

In the Gaza Strip, one Palestinian was killed and another wounded by Israeli tank fire in the Rafah refugee camp on the Gaza-Egypt border. Hamas said the dead man was a member and was on a "holy mission" to target Israeli soldiers. The military said soldiers discovered an arms-smuggling tunnel under the border.

Troops also killed two senior Hamas militants in the West Bank city of Hebron, the army said.

In the West Bank, Israeli troops forced a Palestinian man to play his violin in order to pass through a roadblock near the West Bank city of Nablus, said an Israeli human rights activist who captured the Nov. 9 incident on video. The army said the soldiers acted in an insensitive manner and were reprimanded.




Today's Top News
Top World News

Vaccine in cancer fight approved for clinical trials




Energy use to double by 2020, report says




China to improve HIV/AIDS monitoring




Court rules on property rights




Dollar struggles, hits record low vs euro




Commentary: Facing up to student sex