Dollar struggles, hits record low vs euro
(Agencies)
Updated: 2004-11-26 10:11
The dollar struggled to keep above a record low against the euro and its lowest in nearly five years against the yen on Friday in a holiday-thinned market.
Some traders said the dollar had come under renewed pressure early in the Tokyo session after the Bank of England's chief economist, Charles Bean, suggested that its slide may still have some way to go.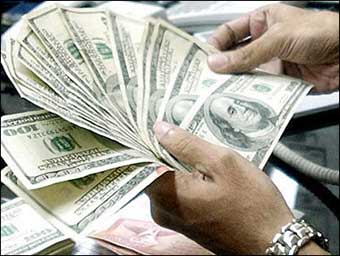 A currency dealer displays US dollar notes at a currency exchange office. The dollar plummeted to new lows against the euro on expectations Russia could par down its dollar reserves in favor of euros and amid ongoing concerns over the US budget and current account deficits, analysts said. [AFP]
The European currency scaled a record high of US$1.3283 as Tokyo traders came into the market, beating the dollar down in the absence of U.S. traders, who were away for the U.S. Thanksgiving holiday.
A repeat of the all too familiar warning against dollar weakness from Japanese Finance Minister Sadakazu Tanigaki, who threatened to take action against sudden moves, had little impact.
Market participants said such verbal intervention had long lost its clout.
"It's just a matter of when monetary authorities are going to crank up the tone of verbal intervention, but at this point verbal intervention isn't going to stop the dollar's fall," said Hideaki Furumaya, currency manager at Trust and Custody Services Bank.
Even so, the market was looking forward to comments later in the day from European Central Bank chief Jean-Claude Trichet, who is due to speak in Rio de Janeiro, along with ECB council member and Spanish central bank governor Jaime Caruana.
Trichet, who referred to recent currency movements as "brutal" earlier in the month, has become the most vocal European policymaker on dollar weakness.
By 1943 EST, the dollar was trading at US$1.3265 per euro, compared with US$1.3270 in thin, late New York trade. It was at 102.55 yen little changed from New York after touching 102.37, a level not seen since March 2000, in London.
Traders were expecting market liquidity to remain thin on Friday because of the extended U.S. holiday.

The lower U.S. dollar rate against Japanese yen, 102.56 yen, is flashed on the digital indicator on the Foreign Exchange in Tokyo Thursday. The U.S. currency slipped to a four-year, 10 month low against the yen Thursday amid lingering concerns about the large U.S. current account deficit. [AP Photo]

In such thin trading, many said a fall in the dollar past 102 yen and US$1.33 per euro was a real possibility.

The Bank of England's Bean said in a speech that imbalances in global current accounts and their effect on exchange rates were one of the biggest threats to the economic outlook.

He added that the dollar could be heading for more losses because "overseas investors are unlikely to continue accumulating dollar assets at the current rate indefinitely."

Meanwhile, the Tokyo market showed little reaction to data showing Japanese core consumer prices dipped 0.1 percent in October from a year earlier, less than market expectations.

The city of Tokyo's core CPI fell an expected 0.3 percent in November from a year earlier.




Today's Top News
Top World News

Eight students killed in a Henan high school




N.Korea, US to discuss six-way talks in Dec




Chinese AIDS vaccine to be tested on humans




Court rules on property rights




Dollar struggles, hits record low vs euro




Commentary: Facing up to student sex