Hundreds of Colombian paramilitaries turn in arms
(Reuters)
Updated: 2004-11-26 09:07
Some 450 far-right Colombian paramilitary fighters turned in their weapons on Thursday as part of a government-negotiated demobilization to eliminate the outlawed group by the end of next year.
About 2,400 more members of the 20,000-strong United Self-Defense Forces of Colombia, or AUC, are scheduled to give up their armed struggle against the country's left wing rebels over the next month.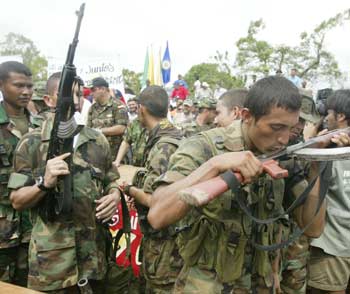 A Colombian paramilitary of the United Self-Defense Forces of Colombia kisses his weapon (R) before turning it over to authorities, during a demobilization in Turbo, Antioquia province, November 25, 2004. Paramilitary units demobilized and handed over their weapons as part of the peace process with the Colombian government. [Reuters]

"After 10 years of horrible fratricidal war I come with my loyal troops to lay down our arms before the Colombian state in a humble gesture of peace," Hernan Hernandez, commander of the AUC's Banana Front, said.

Thursday's gun collection was held in a football stadium in the northwestern town of Turbo. The ceremony, during which some fighters kissed their machine guns and wept as they handed them over, was overseen by government peace negotiator Luis Carlos Restrepo.

The AUC has its origins in vigilante groups set up by cattle ranchers and drug traffickers to combat guerrillas. Its fighters have often cooperated with members of the armed forces, although President Alvaro Uribe says soldiers caught helping the outlawed AUC will be punished.

Huge swaths of Colombia remain under the control of either left wing rebels or their paramilitary foes. Both groups are linked to the country's huge cocaine trade.

Uribe, seeking to regain control of all of Colombia, owes much of his 70 percent popularity to his efforts at bolstering security in order to spur economic growth.

The talks with the AUC are crucial to this strategy. But AUC leaders say they will not agree to government demands that they serve five to 10 years in prison for their crimes.

Casting a cloud over the peace process is Wednesday's decision by Colombia's Supreme Court of Justice, which approved the extradition to the United States of AUC leader Salvatore Mancuso on drug smuggling charges.

"I do not think Uribe will sign Mancuso's extradition order because that would put pressure on the demobilization, and Uribe needs to protect that process," Mauricio Romero, political analyst at Bogota's Rosario University told Reuters.




Today's Top News
Top World News

Vaccine in cancer fight approved for clinical trials




Energy use to double by 2020, report says




China to improve HIV/AIDS monitoring




Court rules on property rights




Commentary: Facing up to student sex




Time needed to decode black boxes