Obesity a major obstacle to good sex life
(Agencies)
Updated: 2004-11-26 08:52
New research confirms the worst fears of those who worry about putting on extra pounds: Severely overweight people are much more likely to report poor sex lives.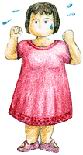 Obesity may lead to many diseases and poor sex life.

In some areas of their sex lives, the obese report 25 times as many problems as people of weight levels considered healthy. Both men and women suffered from lack of sexual desire and enjoyment along with hampered performance. Many reported avoiding sex entirely.

The study results suggest that many fat people share similar challenges on the sexual level, said study co-author Martin Binks, a clinical psychologist and director of behavioral science at Duke University's Diet and Fitness Center. "It's important for people to know it's not something that's wrong with them. It's something that other people experience. They're not alone in this."

Binks and his colleagues surveyed 1,210 people from the Durham, N.C., area. Most had sought treatment at Duke's diet center, and all but 282 were obese, with an average body mass index of 41. The index indicates whether a person's weight is proportional to his or her height; a 5 foot, 5 inch person weighing 250 pounds would have a BMI of 41.

Binks presented his findings Nov. 17 at the North American Association for the Study of Obesity annual meeting in Las Vegas.

Half of those seeking treatment for obesity said they sometimes, usually or always felt no desire for sex, compared to just 2 percent of those who were not obese. About four out of every 10 treatment-seekers reported physical problems with sex; 41 percent said they avoided sex. In contrast, just 2.5 percent of the non-obese people said they stayed away from sexual activity.

Obese people who didn't seek treatment reported more sexual satisfaction, but they remained much less likely to report normal sex lives than the non-obese.

Sexual difficulties among the obese are "a more common problem than one would expect, and they deserve treatment," Binks said. He speculated that self-esteem issues may contribute to the sexual problems facing the obese, whose numbers are growing.

"The public is well aware that they can run a risk of diabetes, cardiovascular disease, and hypertension and so forth [if they're obese]," he said. But the risk of sexual problems "isn't as much talked about."

In another study released at the obesity meeting, researchers found that high levels of fat in the abdominal area -- a pot belly -- spell as much trouble on the disability front as overall obesity.

The researchers examined a study of 16,000 people in Mississippi, Maryland and Minnesota between the ages of 45 and 64. They found that obese people with apple-shaped bodies -- instead of pear shapes with fat distributed below their waist -- were 1.6 times more likely to have difficulty managing daily chores like cooking and household chores than non-overweight people who had low levels of abdominal fat. They were 2.5 times more likely to have trouble with tasks such as dressing and feeding themselves.

"In women, the pear shape is more common. In men, the apple shape is more common, but you see [the apple shape] in both genders," said study co-author Denise Houston, who worked on the research while a graduate student at the University of North Carolina at Chapel Hill. She is now a research associate at Wake Forest University.

The research is another sign of the importance of weight loss, she said, and provides a message to doctors about the importance of understanding the danger of abdominal fat. "If a person is more apple-shaped, they may have more health risks, not just for disability but other chronic conditions," Houston said.




| | |
| --- | --- |
| | |
| Kelly Chan won 59th World Outstanding Youth Award | |

| | |
| --- | --- |
| | |
| The Thanksgiving Day celebrated | |

| | |
| --- | --- |
| | |
| Rebel Dutch photographer to stimulate debate | |
Today's Top News
Top Life News

Eight students killed in a Henan high school




N.Korea, US to discuss six-way talks in Dec




Chinese AIDS vaccine to be tested on humans




Court rules on property rights




Dollar struggles, hits record low vs euro




Commentary: Facing up to student sex