Time needed to decode black boxes
By Cao Desheng (China Daily)
Updated: 2004-11-25 22:09
The black boxes from the crashed airliner that crashed in North China on Sundayhave been taken to Beijing for study, but it will take time to decode them, an investigator said yesterday.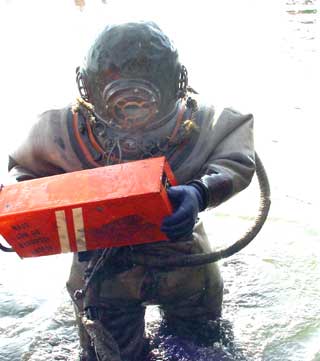 A frogman carries the flight data recorder out of lake in Baotou November 24, 2004. Black boxes of the passenger plane crashed Sunday in Baotou, Inner Mongolia, were found and retrieved. The black boxes, a pilot cabin voice recorder and flight data recorder, could help determine the cause of the crash that killed 55 people, including two on the ground. [Xinhua]

Civil aviation experts have cleaned and dried the two black boxes and scrutinized the welding spots on them, Wu Anshan, a security and safety expert from General Administration of Civil Aviation of China (CAAC) told Xinhua News Agency.

Wu said the damage to the cabin voice recorder is unlikely to hinder decoding efforts.

Experts want to decode the black boxes to determine what caused the crash.

A 50-seat regional jet fell to the ground on Sunday morning shortly after taking off from Baotou, Inner Mongolia Autonomous Region.

The small CRJ-200 aircraft, supplied by Canadian-based Bombardier Aerospace and owned by China Eastern Airlines, was bound for Shanghai.

All of the 47 passengers and six crew members on board and two people on the ground were killed.

China Eastern's general manager Li Fenghua apologized to the public at a press conference on Wednesday and discredited rumours about the cause of the crash.

He called groundless, allegations that the fuel pressure system of the aircraft was not warmed up properly because the plane took off 10 minutes ahead of schedule.

He said it is normal for a plane to take off 15 minutes before or after its schedule, adding the system needs no preheating at all.

Li negated assertions from some media that his airline used fuel of inferior quality on the plane, saying all the fuel his airline uses conform to the CAAC's standard.

He also promised at the conference that his airline has scrutinized safety check in line with CAAC guideline and the crash of the airliner is not the result of a poor safety check.

As experts are investigating into the cause of the air crash, an A300 passenger jet owned by China Eastern made a forced landing on Guangzhou Baiyun International Airport in South China at 0:40 am on Thursday because of a failure in the pressure-boosting system.

It landed on the airport safely en route to Sanya, Hainan Province in South China from East China's metropolis Shanghai.

By press time, 256 passengers were still at the airport, but the airlines had promised to arrange new flights for them before 9 pm.




Today's Top News
Top China News

Energy use to double by 2020, report says




China to improve HIV/AIDS monitoring




China to calculate oil and gas reserves




Time needed to decode black boxes




Ukraine court blocks elected leader taking over




Abuse in home still rages