IAEA: Brazil OKs uranium plant inspection
(Agencies)
Updated: 2004-11-25 20:12
VIENNA, Austria - The U.N. nuclear watchdog has reached a deal with Brazil on inspecting its uranium enrichment plant, the agency's chief said Thursday, signaling an end to months of disputes over how to police technology that can be used for nuclear arms.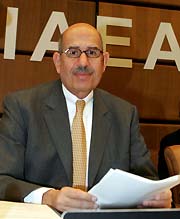 International Atomic Energy Agency (IAEA) Director General Mohamed ElBaradei smiles before the beginning of an IAEA board of governors meeting in Vienna November 25, 2004. [Reuters]

Mohamed ElBaradei said the deal would enable his International Atomic Energy Agency to inspect Brazil's state-of-the-art centrifuges without risking industrial espionage.

"We've been able to reach an agreement ... to verify the enrichment facility," said ElBaradei, head of the agency.

On Wednesday, the Brazilian government said it had reached an agreement to activate its uranium-enrichment plant at Resende, 70 miles west of Rio de Janeiro, but the IAEA described the claim as premature.

Inspectors visited the plant for three days last week to determine whether it was ready to begin operation, the Science and Technology Ministry said in an official statement.

"All procedures outlined for the visit were completed," the ministry said. "This means that, from the standpoint of International Safeguards, the plant ... is in condition to start up."

The ministry did not say whether inspectors were granted full visual access to the centrifuges in the Resende plant ¡ª which Brazil had said it wouldn't allow.

Later, Brazil proposed that the agency inspect the valves and tubes leading to and from the centrifuge, but not view the centrifuges in full.

Enriched uranium produced by the plant would be used in Brazil's Angra I and Angra II nuclear plants.

Diplomats recently detailing the deal said it would allow inspectors to see parts of the centrifuges while other parts would remain covered from view. Computer-generated diagrams would be provided to the agency experts to flesh out what they are not allowed to see.

They said the plan would allow the inspectors to monitor more than entry and exit points of the centrifuge cascades used to spin hexafluoride gas into enriched uranium ¡ª which is what Brazil had initially insisted on.

Diplomats say the IAEA has little concern that Brazil is trying to make nuclear weapons through enrichment, which can provide both energy and the material for the core of such arms.

But Brazil's reluctance to let the inspectors see all of its nuclear program heightened concerns that it could serve as a precedent for other nations being asked to provide full access to their nuclear programs, such as Iran and possibly North Korea if it again accepted international inspections.

Brazil for months had refused to give IAEA inspectors visual access.

But experts doubt Brazil has developed centrifuges radically different from equipment used at other uranium enrichment plants, and point out that technological advances are normally protected by patents.

Diplomats accredited to the Vienna-based IAEA and familiar with Brazil's nuclear dossier say the nation's reluctance to fully open its centrifuge program to outside scrutiny could partially be due to fears that it would expose past illicit purchases.

Brazil ran a secret nuclear military program before giving it up in the 1980s ¡ª much of it based on secret procurement.





Today's Top News
Top World News

Shanghai targets empty cabs for traffic woes




US$46,000 offered to nab Beijing drug dealers




China to audit senior military officers




Air crash raises safety concerns




China, Cuba to stick to independent road




US rejects Ukrainian election results