Yushchenko appeals to Ukraine high court
(Agencies)
Updated: 2004-11-25 20:06
KIEV, Ukraine - Ukraine's opposition leader raised the stakes in his standoff with the Kremlin-backed prime minister on Thursday, asking the Supreme Court to declare presidential election results invalid and threatening to have his supporters block key highways.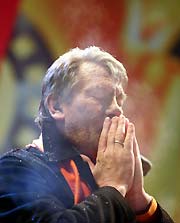 Yushchenko on Wednesday called for a national strike that would halt transport and shut factories in protest at the declaration that his Moscow-backed rival had won the election. [Reuters]

Thousands of Victor Yushchenko's supporters have spent four nights outside in the bitter cold to protest authorities' decision to declare Prime Minister Viktor Yanukovych winner of elections denounced by Western observers as fraudulent.

Yushchenko, a Western-leaning reformist, sent word to the masses in Kiev's Independence Square Thursday that the opposition intends to blockade several international highways in western Ukraine, where his support is running high.

"More and more people gather on the main streets of Ukrainian cities," Mykola Tomenko, a lawmaker and Yushchenko ally, told the crowd of 15,000.

Also, Yushchenko appealed the official results to Ukraine's Supreme Court, the Interfax news agency quoted his ally, Yuriy Klyuchkovsky as saying. The opposition also planned to file complaints in regional courts to protest the election results.

Earlier the reformist candidate called for a general strike to protest authorities' decision to name Prime Minister Viktor Yanukovych winner of Sunday's presidential election denounced by Western observers as fraudulent.

On Thursday, Russian President Vladimir Putin congratulated Yanukovych on his win despite the fraud allegations and U.S. and European criticism of the result, the second time he has congratulated the pro-Kremlin candidate.

In telegram, Putin said that Yanukovych's election would help "bring the Russian-Ukrainian strategic partnership to a new level."

With the gulf deepening between the opposition and the government, a key mediator ¡ª Lech Walesa, the founder of the Polish Solidarity movement ¡ª arrived in Ukraine to try to help pull this deeply divided nation of 48 million back from the brink of conflict.

The opposition's threat to shut down factories, schools and transportation risked provoking a crackdown by outgoing President Leonid Kuchma, who accused the opposition of trying to carry out "a coup d'etat."

A strike could also further divide the country: Yanukovych drew his support from the pro-Russian, heavily industrialized eastern half of Ukraine, while Yushchenko's strength was in the west, a traditional center of nationalism.

To prevent the crisis from widening, Yanukovych said negotiations with Yushchenko's team would begin Thursday. The opposition has said, however, that it would talk only about a handover of power to Yushchenko, and would only negotiate with Kuchma.

The election officials' decision to declare Yanukovych the winner "puts Ukraine on the verge of civil conflict," Yushchenko told hundreds of thousands of his cheering supporters on Wednesday.

The commission said Yanukovych got 49.46 percent of the vote and Yushchenko 46.61 percent.

Thousands of supporters spent the night in the capital, staying in giant tent camps set up along Kiev's main street and near the presidential administration building. As the sun rose, groups huddled together, drinking hot tea and breaking into regular chants of "Yushchenko! Yushchenko!" They stamped their feet to keep warm as the temperatures plunged well below freezing.

The police presence around the presidential administration building was reinforced Wednesday night, with about 40 buses disgorging well over 1,000 officers with helmets and shields who stood in phalanxes up to eight deep outside the building.

The building became the site of the most tense standoff yet in the five days of protests when some 15,000 Yushchenko supporters faced off against riot police on Tuesday night. Ukraine's Interior Ministry said Thursday that it opened a criminal investigation into what it called an attempt to seize the building.

Sunday's runoff was denounced as fraudulent by Western observers, who cited voter intimidation, multiple voting and other irregularities. U.S. Secretary of State Colin Powell said Wednesday that the United States cannot accept the result.

"With this decision, they want to put us on our knees," the Western-leaning Yushchenko, who took a symbolic oath of office on Tuesday, told his supporters. They responded with chants of "Shame! Shame!" and "We will not give up."

Socialist Party leader Oleksandr Moroz said the opposition was "organizing citizens, stopping lessons at schools and universities, stopping work at enterprises, stopping transport ... and, thus, we'll force the authorities to think about what they are doing."

Yuliya Tymoshenko, Yushchenko's key ally, said his followers would "surround all government buildings, block railways, airports and highways."

She also said that the opposition would go to Ukraine's Supreme Court on Thursday to protest the alleged election fraud. The opposition also planned to file complaints in regional courts.

The election has led to an increasingly tense tug-of-war between the West and Moscow, which considers Ukraine part of its sphere of influence and a buffer between Russia and NATO's eastern flank.

In contrast to Putin's pleasure with the result, Powell challenged Ukrainian leaders "to decide whether they are on the side of democracy or not" and warned of "consequences for our relationship, for Ukraine's hopes for a Euro-Atlantic integration and for individuals responsible for perpetrating fraud."







Today's Top News
Top World News

Energy use to double by 2020, report says




China to improve HIV/AIDS monitoring




China to calculate oil and gas reserves




Time needed to decode black boxes




Ukraine court blocks elected leader taking over




Abuse in home still rages