Red Cross visits Saddam again
(Agencies)
Updated: 2004-11-25 14:03
The international Red Cross has visited Saddam Hussein again to check on his condition in detention, a spokesman said Wednesday.
Muin Kassis, spokesman for the International Committee of the Red Cross in Amman, Jordan, said the visit "took place recently in the detention place of the former president of Iraq."
"A team of ICRC delegates spent some time with the former president, and they were able to talk to him in private, which meets one of the requirements of ICRC's visits to prisoners and persons deprived of their freedom anywhere in the world," Kassis said by telephone.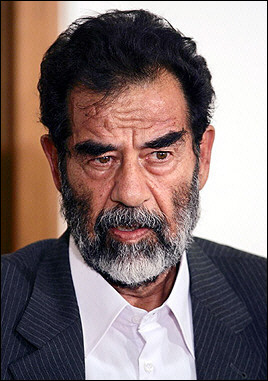 Iraqi Defence Minister Hazem Shaalan said toppled dictator Saddam Hussein (pictured) will go on trial on charges of crimes against humanity by the end of the year. [AFP]

He said he was unable to disclose details of the conversation, but that "usually during such visits the ICRC delegates would inquire about the general detention conditions and they would listen to the prisoner."

"Should they have any remark relating to the health condition or the detention conditions and treatment they would discuss it directly with the detaining authorities," Kassis added.

He said he didn't know whether Saddam sent his family any messages this time, but that ICRC remains in contact with his family.

The visit was the latest in a series that the ICRC has been making to the former Iraqi president since he was captured by U.S. forces last December and imprisoned in an undisclosed location.

The ICRC team, which usually includes a doctor, has been seeing Saddam every six to eight weeks in a prison in Iraq, where it also visits other "high-value detainees." The last confirmed visit by the organization was in early October.

The ICRC refuses to disclose details of his health or circumstances, but it has carried letters from him to his family.

Saddam underwent surgery to repair a hernia at the end of September or in early October and made a full recovery, a U.S. official said last month.

The U.S. military official, who spoke on condition of anonymity, said Saddam's health was good with no major ailments.

In July, the Guardian newspaper in Britain and Newsday in New York quoted Iraq's human rights minister, Bakhtiar Amin, as saying Saddam was being treated for high blood pressure and a chronic prostate infection and was suffering from a hernia.

Saddam is believed to be held in an American-guarded facility near Baghdad International Airport.

He appeared in court in July for a preliminary hearing into charges of alleged crimes committed during his rule.




Today's Top News
Top World News

US$46,000 offered to nab Beijing drug dealers




China to audit senior military officers




Air crash raises safety concerns




China, Cuba to stick to independent road




US rejects Ukrainian election results




Empty cabs targeted to relieve traffic woes